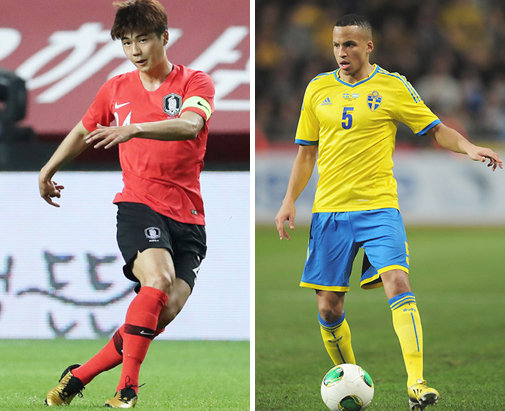 Korean national football team captain Ki Sung-yueng expressed a strong will to win Korea's first group match against Sweden next Monday (9 p.m. local time). He is not much of a talker but he knows how to drive his teammates' will to win by giving a strong message. "Being on a World Cup stage can be a burden. And the pressure is on us to live up to fans' expectations," Ki said. "But I want other players to feel proud of themselves for being able to play on a World Cup stage."
Korea's opening match against Sweden is special for Ki for another reason. He will play against his ex-teammate, whom he played in the same team until the last season.
When the final draw for the 2018 FIFA World Cup Russia was held on December 2 in Moscow, Russia, Ki was watching the draw on TV with his teammate Martin Olsson in England.
"Maybe we'll play in the same group," Ki said to Olsson. And he was right. Korea, which is ranked at 57th in the FIFA rankings, was put in Group F with Sweden, whose FIFA ranking stands at 24th. According to Olsson, Ki made a suggestive joke to him after the draw, saying, "We should not be talking to each other anymore. We're enemies now."
Swansea City left-back Olsson was responsible for the team's defense with defensive midfielder Ki, who is now looking for a new team, in the EPL. Ki and Olsson are likely to play against each other in different teams from the next season. But before that, they will play against each other in the World Cup.
Yun-Cheol Jeong trigger@donga.com