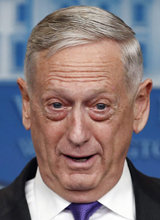 U.S. Defense Secretary James Mattis reaffirmed Sunday (local time) that a possible drawdown of American forces stationed in South Korea will not be discussed at the upcoming Trump-Kim meeting.
"I'll say it again. We're not going anywhere. It's not even a subject of the discussions," Mattis told reporters en route home from the Shangri-La dialogue in Singapore. A day earlier he said that the issue of the U.S. troops based on the Korean Peninsula "is not on the table here in Singapore on the 12th (of June), nor should it be."
"Obviously, they are there because of security conditions 10 years ago, five years ago, this year," said Mattis during the flight. "If five years from now, 10 years from now, it could be up for review, that would be between a democracy called the Republic of Korea (South Korea) and a democracy called the United States of America." With the latest comments, he has confirmed that even if the issue of the U.S. troops will be on the table, it would be Washington and Seoul to make decisions on it.
Also, he flatly dispelled any speculation that the issue came up during a trilateral meeting with his South Korean and Japanese counterparts at a security conference in Singapore.
Speculation swirled after U.S. President Donald Trump, after meeting with Kim Yong Chol, vice-chairman of North Korea's Central Committee of Workers' Party, said last Friday that "We talked about almost everything" when asked by a reporter whether Kim asked him "anything about troop levels in South Korea."
Jeong-Hun Park sunshade@donga.com