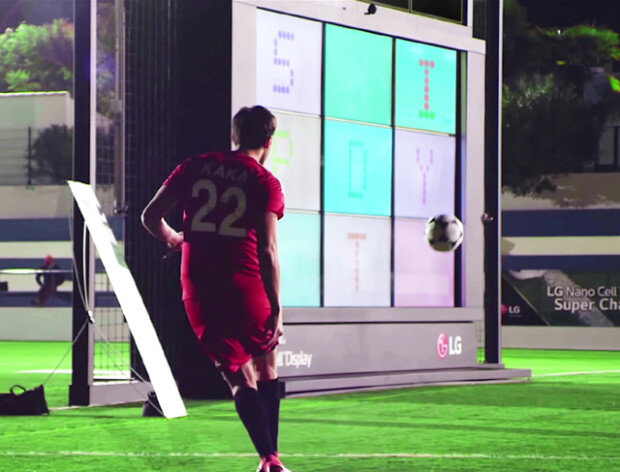 The "LG Nano Cell Super Challenge" video released by LG Electronics on April 30 has reached more than 200 million views on social media including YouTube, Facebook and Instagram.
This is the first time that a video released by the company has over 200 million views, the South Korean tech giant said Tuesday. On YouTube alone, the video has been watched more than Psy's "Gangnam Style," which had 40 million views for a month. LG's Nano Cell Super Challenge video has had 170 million views in a month on the platform.
The video ad shows how LG's "Super Ultra HD TV," which is called Nano Cell TV with premium LCD, provides wider viewing angles. In the ad, Brazilian footballer Ricardo Kaká kicks a ball from the angle of 60 degrees towards LG Nano Cell TV and conventional TV to hit target alphabets displayed on screen. The world-famous footballer could accurately hit the targets in the field of LG Nano Cell TV. Yet in the other field, the accuracy of his shooting fell because colors grow muted when seen from the side. LG Electronics stresses that it is important for a TV to have wide viewing angles as viewers are not always seated in the middle of the couch.
The video has also ranked No. 1 for three consecutive weeks from the second week of May to the fourth week in "Viral Videos Chart" released by Ad Age every week.
Jae-Hee Kim jetti@donga.com