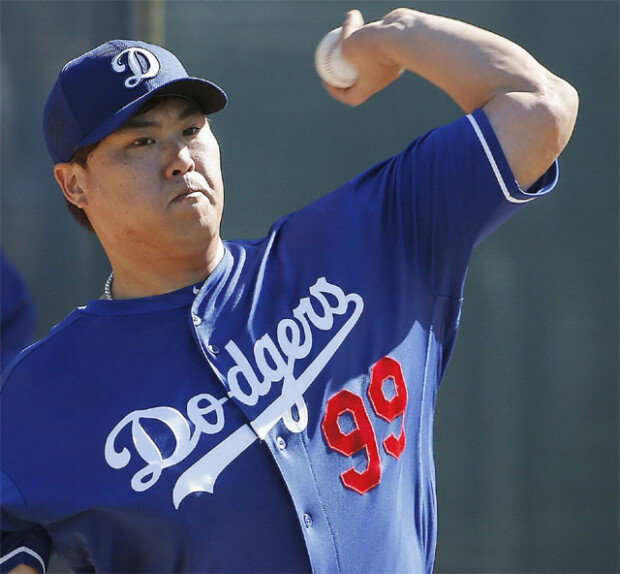 Los Angeles Dodgers pitcher Ryu Hyun-jin displayed his best pitching in this year's exhibition games, heralding a promising outlook in the upcoming U.S. Major League Baseball season.
The 30-year-old left hander had five hits, a walk and six strikeouts to give one run during five innings as starter in the home game against the Los Angeles Angels at Thursday's Cactus League game, which took place at Camelback Ranch Glendale. Ryu's previous best showing in this season's exhibition games was 62 pitches that he threw during three innings of the previous games. He thus increased his total pitches to 75 in the latest game, as he completed five innings for the first time. Ryu overwhelmed batters of the Los Angeles Angels, which fielded all of its ace fielders, including Mike Trout and Albert Pujols, to enable his team to secure a 4-3 win and its second win (one loss) in the exhibition games.
Ryu increased the portion of fastballs and properly mixed them with curves of more spins in his pitching at Thursday's game. When pitching, he showed confidence as was evidenced a strikeout that he handed Trout, a famed Major League slugger and superstar. He also demonstrated outstanding capability to put crises under control.
At three exhibition games, Ryu has posted an ERA of 8.44, two wins and one loss by pitching. He has an ERA of 7.43 in four games when including B games (games involving both Major and Minor League players). Ryu will pitch in another exhibition game to make final check, before taking the mound for this season's first game against the Arizona Diamondbacks on April 3.
"I had the best showing in ball control and pitches today's event among the exhibition games I have played," Ryu said in expressing satisfaction. "I was able to pitch curves as I wanted, and throw nice cutters. It was great overall."
Bae-Jung Kim wanted@donga.com