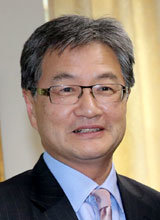 U.S. special representative for North Korea policy Joseph Yun, who is well known advocate for dialogues, retired on Monday (local time). "It was completely my decision to retire at this time," said Yun in an interview with CNN. "Secretary of State Rex Tillerson accepted his resignation with regret." Heather Nauert, spokeswoman of the State Department, also confirmed his resignation, saying, "Ambassador Joe Yun, a respected member of the Senior Foreign Service, has decided to retire for personal reasons...Secretary of State Rex Tillerson has reluctantly accepted his decision and wished him well."
People are focusing on the background of Yun's resignation, which comes at a critical diplomatic juncture for possible talks between North Korea and the United States as Yun was the very person who operated the New York line, which is a working level channel between the two nations. As the top American envoy on North Korea has been communicating with Pak Song Il, a top North Korean official at the United Nations, Yun was brought up as the most qualified person for exploratory North Korea-U.S. dialogue. Yun flew into North Korea last year to bring home Otto Warmbier, the American college student who died after being imprisoned in North Korea.
The majority interprets Yun's sudden resignation to be a result of reflecting conflicts between the U.S. Department of State and the White House with regards to North Korea policy. Previously, Yun came into conflict with the U.S. National Security Council, which pushes tough policies against North Korea.
Some people view that this is an extension of the incident with Victor Cha, an expert on the Koreas at the Center for Strategic and International Studies (CSIS) who was the leading candidate for the Unites States ambassador to South Korea but dropped from the position. "Yun's retirement also comes as Yun shared different views with the NSC, which is quite similar to Victor Cha, who was the leading candidate for that position but dropped reportedly after expressing concerns about a pre-emptive military strike," said a think tank in Washington.
"He was a great advocate for dialogue and for diplomacy, and I think it's unfortunate that his voice will no longer be in the conversation inside the U.S. government," said Abraham Denmark, the director of the Asia Program at the Woodrow Wilson International Center for Scholars.
U.S. Department of State did not specify Yun's "personal reasons." It has been said, however, that Yun, who turned 64 this year, told people around him that he wishes to "retire at the right moment." Yun also used the word "retire" instead of "resign" during his interview with CNN.
Jeong-Hun Park sunshade@donga.com