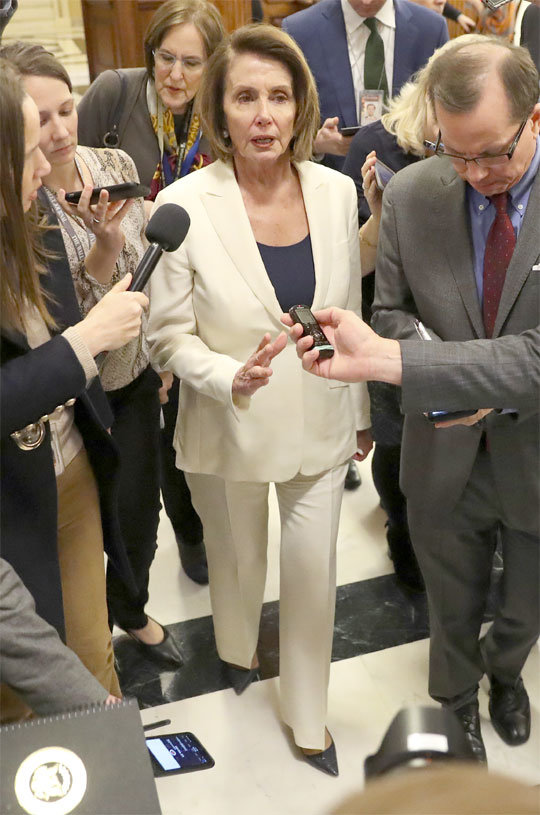 House Democratic Leader Nancy Pelosi took the House floor at 10:04 a.m. on Wednesday (local time). Two minutes and 30 seconds after she started her speech, she said she would like to continue speaking as long as the rule allows. She found a loophole in the House rules, where party leaders, when recognized, can speak for as long as they want.
Nancy Pelosi, 77, wearing four-inch heels, spoke for eight hours and seven minutes in advocacy of "dreamers" (young undocumented immigrants). This breaks the record previously set in 1909 by Democrat Champ Clark's five hours and 15 minutes.
The New York Times and The Washington Post called her speech a "DACA-buster," a combination of DACA and filibuster. The Trump administration is scheduled to terminate the Deferred Action for Childhood Arrivals (DACA) on March 5. Pelosi has been opposing Trump's scrapping of DACA program.
"The young people are our future and these dreamers are part of that," said Pelosi sharing stories of dreamers, who have realized their dreams thanks to the DACA program, and also quoting from the Bible. On her way to work Wednesday morning, Pelosi called her aides and instructed them to send out stories from dreamers and select Bible verses, according to The Washington Post.
As she got to the end of her speech, her voice cracked and she sometimes stuttered. At 6:10 p.m., she finished her speech by saying, "Let us thank and acknowledge the Dreamers for their courage, their optimism, their inspiration to make America more American." Her Democratic colleagues stood and applauded.
wizi@donga.com