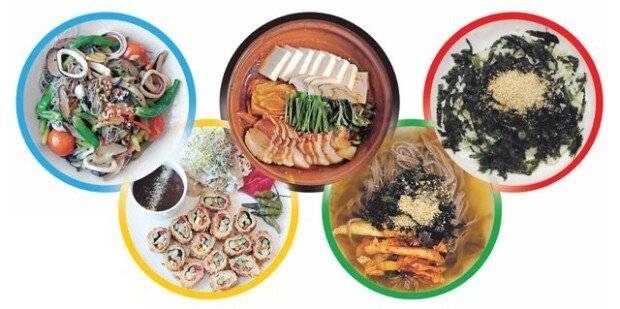 "I heard Pyeongchang is famous for grilled dried pollack and Gangneung is best for sliced raw fish, or sashimi. But I cannot eat only those dishes during the Olympic Games. Is there any special food that will recall Korea in the distant future?" asked Remi Lanzvan, a 27-year-old Canadian, who recently traveled to the two cities hosting the Winter Olympics with The Dong-A Ilbo.
Alexander Gamelin, who will compete at the upcoming Olympics as the South Korean ice dance tandem with Min Yu-ra, also wants to know more about Korean food in and around Pyeongchang. "Foreign athletes often ask me what they should eat if they come to Korea. Seoul has a variety of restaurants, a lot of Korean food that I can introduce," the ice dancer from Boston said. "But I don't know much about Gangwon Province."
As the saying goes, "A loaf of bread is better than the song of many birds." Eating comes first even in Olympics. Not only foreigners but also locals will think about what to eat during this Olympic season. For those who are concerning over what to eat, we recommend "best 30 special dishes for the PyeongChang Olympic Games" offered by Gangwon Province.
In 2016, the provincial government selected a total of 30 specialties with 10 special food items from each area, Pyeongchang, Gangneung and Jeongseon, in a bid to let the world know more about Korean food. Currently some 128 local restaurants in three areas are serving the selected special dishes. The Dong-A Ilbo went to these restaurants to explore the tastes and characteristics of the region's food.
Yun-Cheol Jeong trigger@donga.com · Bae-Jung Kim wanted@donga.com