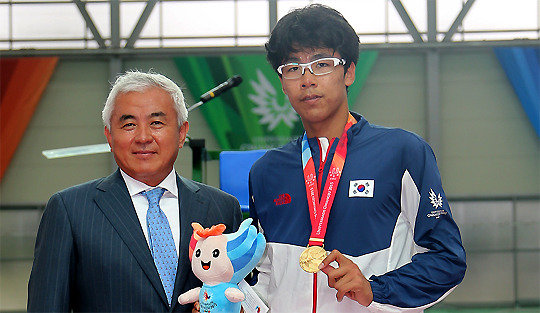 Joo Won-hong, former chairman of the Korea Tennis Association, could not hide his excitement when Chung Hyeon advanced to the Australian Open semi-finals for the first time as a Korean tennis player. Joo has played a crucial role in Chung's achievement.
"Chung's father asked me to teach his son when he was a senior in middle school. His position was totally off balance because he had been coached in a wrong way. He was a great player whom I always kept an eye on. I knew his daring style would stand out one day."
Joo is known as the "Midas Touch" in Korean tennis circles. He has taught all the star tennis players in Korea including Park Sung-hee, Yoon Yong-il, Lee Hyung-taik, Chun Mi-ra, Cho Yun-jung and Chung Hyeon. Sometimes he paid out of his own pocket to teach aspiring tennis players. Park Sung-hee was ranked 57th place in the Women's Tennis Association, while Lee Hyung-taik became the first Korea player to join the round of 16 at the U.S. Open in 2000 and 2007.
Joo introduced Chung to the Samsung Junior Program so that he could get sponsored. He asked Coach Kim Il-soon and Yun Yong-il of the Samsung Securities Team to teach Chung. One and a half years later, Chung became the runner-up in the 2013 Wimbledon Boys' Singles. When Chung fell into a deep slump in 2016, Joo advised him not to compete in games but go back to the basics.
"Chung had malocclusion of the teeth, which could cause joint problems. He was pretty downcast after competing in tournaments as a wild card," Joo said. "I had him rest and attend physical therapy. I sent him all the way to a well-known therapist in Jeonju. I had Park Seung-hee, a tennis player turned psychologist, see him for psychotherapy. I made him correct his posture. He came back to life after four months."
"It will be more important than ever from now on. Chung Hyeon needs thorough training and management if he wants to make it past the semi-finals in major tournaments," said Joo. He stressed the importance of physical strength. With more sophisticated techniques and harder training, the risk of injury increases. Joo believes that solid physical strength is needed to withhold the burden.
Jong-Koo Yang yjongk@donga.com