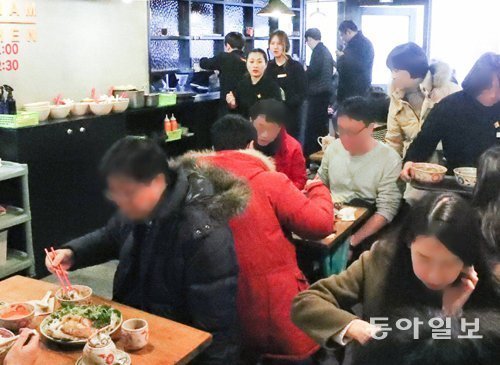 At a freezing Wednesday noon, a long que formed at Emoi, a Vietnamese restaurant in Jongno, downtown Seoul. The situation was similar at other Vietnamese restaurants around the Gwanghwamun area. It is common to see restaurants filled with people eating "pho" and "buncha," a dish served with grilled pork in dipping sauce.
Vietnamese food has recently become more popular than ever in Korea. A number of restaurants replicating the local taste, such as Bunchara Boom, Emo and Toi Toi Vietnam, have opened across the country. The Emoi branch located in Jonggak was even listed on Michelin Guide's 2018 Bib Gourmand list.
Sales of pho at hypermarkets have soared as well. According to E-mart, sales for pho-related products, which saw a 5.3 percent year-on-year increase in 2015, soared 30.3 percent in 2016 compared to the previous year. As of November 2017, it has grown an additional 20 percent.
The Vietnamese food craze in Korea started about 20 years ago, as Vietnamese restaurant Pho Hoa opened in Gangnam area in 1998. A number of restaurants followed suit, building on the fad. "Pho is well-liked by Koreans because it appeals to the local taste that favors soup," says Park Hong-in, chief editor of Bar & Dining. "However, most of the restaurants back then were franchises from the United States, which catered to American taste."
The current trend is distinctively different, though, because it is based on the local Vietnamese taste. "Pho in Korea 20 years ago was similar to the Western U.S. style, but today it is more similar to the local authentic taste," said Shin Sung-ho, chef of Toi Toi Vietnam, who worked at Pho Hoa back in 1998. "We try to follow the local cooking style and use local ingredients as much as possible, brewing the broth from scratch and using raw noodle."
Vietnam cuisine is popular in Korea because it is most familiar to Koreans among foreign food. "Among the variety of foods in Southeast Asia, Vietnamese is most favored by Koreans," says Jin Yu-jeong, an expert of Vietnamese cuisine and author of "The noodles that I left there." "It is not as sweet as Thai food, and plenty of raw vegetables are used. Cooking styles are also similar, with many dishes brewed or boiled."
Another reason fueling the trend is the rise of Koreans travelling to Vietnam. The number of Koreans that have visited Vietnam over the last three years has grown about 40 percent each year. This year, the figure has passed 1.7 million, making Vietnam the most visited destination among Southeast Asian countries.
"Vietnamese food has been around for Korea for almost 20 years now. An increasing number of people have experienced the authentic local taste by travel," said food critic Lee Yoon-hwa. "Now people have higher expectations for local Vietnamese food, and restaurants have understood such demands and responded well by providing more sophisticated dishes."
Dong-Wook Kim creating@donga.com