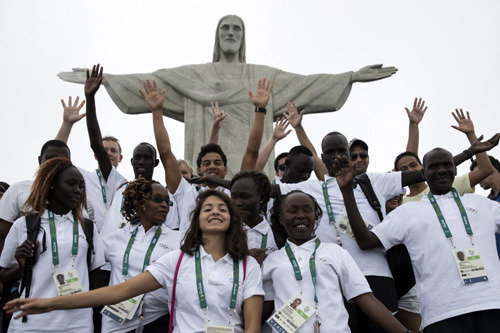 In the 2016 Rio de Janeiro Olympic Games, the Refugee Olympic Team competed for the first time in the history of the Olympic Games. Ahead of the Rio Olympics, the International Olympic Committee (IOC) formed the first-ever Refugee Olympic Team to give hope to refugees by selecting 10 sports players—two swimmers from Syria, two Judokas from the Democratic Republic of the Congo, five track and field athletes from the Republic of South Sudan, and one track and field athlete from Ethiopia. They had to leave their war-torn home countries.
The Refugee Olympic Team, wearing the Olympic Flag on their chests instead of their national flags, entered the opening ceremony right before Brazil, the host country.
"I want to show the best possible image of refugees or Syrian people, or anyone who has suffered injustice in the world, and tell them to not lose hope -- never lose hope," Rami Anis, a swimmer from Syria, said after the men's 100 meter freestyle heat. "I hope at the 2020 Tokyo Olympics, there will be no refugees and we will be able to go back home. Nothing is nearer and dearer to my heart than my homeland."
The 1992 Barcelona Summer Olympic Games saw the most independent Olympians, as 58 sports players from Yugoslavia and Macedonia, which were suffering from a civil war, competed under the Olympic Flag. Macedonian athletes participated as independent Olympians because their Olympic committee had not been formed in time. Yugoslavia's 52 athletes also competed under the Olympic Flag with their country prevented from taking part due to United Nations sanctions. Three shooters from Yugoslavia won one silver medal and two bronze medals.
Hong-Gu Kang windup@donga.com