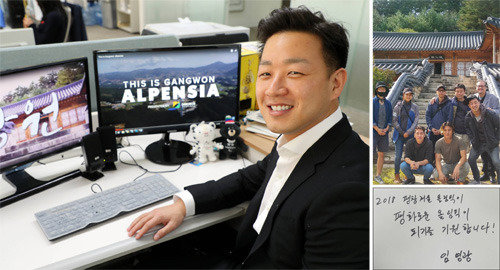 "With the Olympics just around the corner, many Americans still confuse Pyeongchang with Pyeongyang. I thought promoting Korea and Gangwon Province was a chance to promote the PyeongChang Winter Olympics as well."
It seemed he had a lot to say. This reporter met with senior producer Lim Young-Kwang (Young Lim) of CBS on Monday at the Dong-A Media Center located in central Seoul. "We have promotion videos for Dubai and even Taiwan at CBS but none for Korea," said the 33-year-old producer. "I have decided to make 'This is Gangwon' in order to promote Korea to the world ahead of the Olympics."
"This is Gangwon," which has been airing on CBS from last month and ends on Wednesday, is a series of video clips promoting Gangwon Province ahead of the 2018 PyeongChang Winter Olympics. Being created with the help of the Gangwon provincial government and the Overseas Koreans Foundation, the film can also be viewed on YouTube.
There is a reason why Lim concentrated on promoting the beauty of Gangwon instead of focusing on introducing Olympic facilities. "Whenever I visit Korea for recording, my friends worry about me going to such a dangerous country," Lim said. "Americans are very sensitive about the nuclear crisis with North Korea."
He joined CBS after earning a Master's Degree in Broadcasting Journalism from Columbia University. He plans to keep going and make "This is Korea," bringing the beauty of Seoul, Busan and Jeju Island to global viewers.
Hong-Gu Kang windup@donga.com