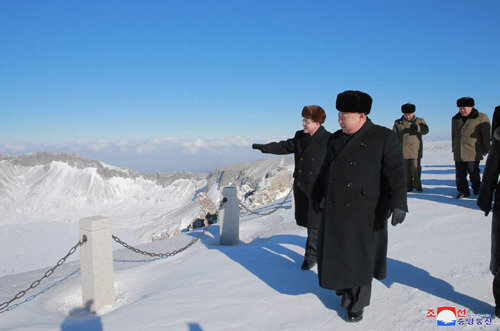 North Korean leader Kim Jong Un has climbed to the top of the 2,750-meter Mount Baekdu in the intense cold in early December. Kim, who has made special announcements after climbing the "sacred" mountain, is likely to declare his regime as a nuclear power in the near future.
The official state newspaper Rodong Sinmun reported on Saturday that Kim Jong Un scaled to the highest Janggun Peak of Mount Baekdu together with Choe Ryong Hae, a vice chairman of the regime's ruling Workers' Party. The press said, "(Kim) recalled the emotion-charged days when he realized the great historic cause of completing the state nuclear force without yielding even a moment and with the indomitable faith and will of Baekdu." Kim was also quoted as saying that he had "often climbed Mount Baekdu but this is the first time to have in mid-winter such a nice weather, rare to be seen even in spring. The lake at the top presented charming scenery showing magic peaks and dazzling sunshine on its clear and blue waves."
The dictator has climbed this holy mountain every year since 2013 after taking power. In November 2013, he visited the mountain and executed his uncle Jang Song Thaek the following month. After Kim visited the mountain again in November 2014, he offered a surprise proposal for a summit in his New Year's speech, saying, "There is no reason for not holding high-level talks with South Korea."
"It is highly possible that Kim Jong Un, who claimed the completion of the state nuclear force after the launch of the Hwasong-15 type inter-continental ballistic missile on Nov. 29, will declare the regime as a nuclear power in his New Year's address," said a South Korean government official.
The state media claimed its leader ascended the mountain "going through thick snow," but apparently, there was no snow or dirt on his black leather shoes and coat. This is because the road is paved all the way to the top of Mount Baekdu, which can be reached comfortably by a four-wheel vehicle. A cable car is installed from the peak to Cheonji crater lake, but the state media's propaganda photos showed that Kim did not climb down to the lake.
In-Chan Hwang hic@donga.com