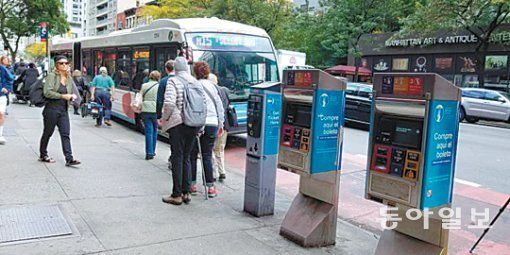 New York City's Yellow Cab driver Hwang Gil-jae (48) often stays out all night in his cab at John F. Kennedy International Airport because he has to make up for a loss of income. Two drivers take shifts to drive the cab. "My income decreased by some 20 percent, compared to when I started driving the cab four years ago. Some drivers have even suffered a 30 percent loss," said Hwang. "I have to stay up all night and get airport customers to try to make up for it."
The advancement of transportation network companies such as Uber and Lyft that connect car owners and passengers with a smart phone are driving taxis in New York to the end of the rope. In July this year, Uber surpassed New York cabs in the number of cars, drivers and average daily trips for the first time. Uber outpaced New York cabs in the number of cars in 2015.
Uber hires about 50,000 drivers. The number goes up to 60,000 when Lyft and Via are included. The number of taxi drivers in New York, which was once over 33,000, is now around 25,000, about half the number of Uber drivers. The cost to purchase a New York City taxi medallion hit 1.3 million dollars in 2014, but the price tumbled down to around one-sixth, 200,000 dollars, in just three years.
New York taxis are seeking measures to save themselves. One of them is the hybrid taxi application Curb, which connects passengers and taxi drivers with a smartphone.
Bus ridership is also declining in New York City. New York buses are notoriously slow as they operate via highly congested areas such as Manhattan, where passengers and automobiles snare up the traffic on one-way streets. The average driving speed of New York buses is 11.9 km/h, 70 percent of Los Angeles (17.2 km/h).
A short bus ride in Manhattan takes about the same as or even longer than walking. The number of subway passengers has increased by 24.2 percent since 2002, while the bus system lost 16 percent of its passengers.
A new bus transit station is under construction at the walkway between the 55th Street and the 2nd Street in Manhattan. The Metropolitan Transportation Authority is adding a "Select Bus" service to speed up the buses and lure passengers back to its service.
Select Buses run on designated bus lanes that have automated cameras installed. Riders pay the fare at the bus stop before getting on the bus, and will use both front and back doors to get on the bus. This is to prevent delays from passengers paying and boarding the bus when using only the front door. The number of bus stops has been reduced, while a smart information system that notifies riders of bus arrival times has also been introduced. According to the MTA, the speed of buses on Select Bus Routes has increased from 10 percent to 30 percent.
Experts say the competition between new technologies of transportation network companies and public transportation is inevitable. They call for an alternative solution utilizing new technologies as a catalyst for innovation and a complement to public transportation rather than standing against new technologies. "Advancements in technology for public transportation are being made continuously," said Jon Orcutt, a spokesman for the New York-based advocacy group the Transit Center. "New York City is looking for solutions through discussions on which policy is better suited for new technologies."
parky@donga.com