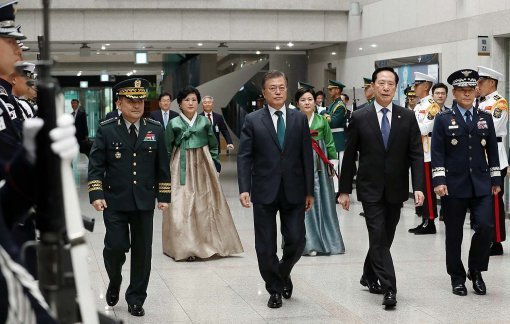 "South Korea must establish the conditions for a transfer of the wartime operational control as soon as possible based on a solid and strong alliance between South Korea and the United States," South Korean President Moon Jae-in said Friday. "The key point of it is that the South Korea-U.S. combined defense capabilities must be led by the South Korean military."
During the first luncheon with commanders of all military services at the presidential office since Moon's inauguration, Moon said, "We have to strengthen our core capabilities in practical terms in order for South Korea to take a responsibility for our own national defense." To restate, Moon emphasized that the South Korean military should expedite process of improving the South Korean military's capabilities, which was agreed between the two countries as a key condition for a transfer of the wartime operational control.
"In order to secure national security and peace of South Korea, we must achieve overwhelming dominance over North Korea on the military front," the president told military commanders. Moon also instructed to facilitate execution of follow-up measures to the revised South Korea-U.S. missile guidelines agreed by Moon and U.S. President Donald Trump at last month's summit and acquisition and development of cutting-edge military assets.
South Korea's Defense Minister Song Yong-moo talked about a significant increase in the budget for national defense in 2018. "We will complete a three-axis system incorporating kill chain, missile defense and massive punishment and retaliation early and develop a new operational concept so that we can end a war with minimum sacrifice in the shortest time possible," Song said.
hjson@donga.comnoel@donga.com