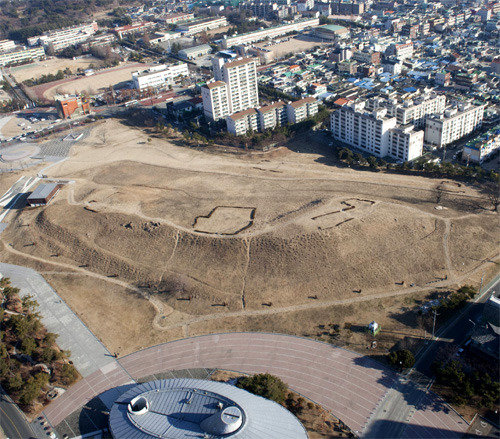 The Moon Jae-in administration is pushing for a history restoration project for Gaya confederacy in earnest, one of the administration's 100 pledged goals.
On Thursday, the Cultural Heritage Administration (CHA) convened a meeting at the Korea House in Seoul to announce a detailed plan for "an investigation, research and maintenance project on culture of Gaya confederate states". This marks the first time for the CHA to announce a comprehensive plan for the historical restoration project of Gaya (AD 42–532) since the confederacy was designated as one of the tasks to pursue at a national level.
As the first order of business, the cultural agency is planning to publish a series of books on Gaya next year, which will serve as the ground data for historical research. The Gaya series is a compilation of various literatures, research data of Japanese colonial era and excavation investigation reports, which will categorize the historical properties of Gaya into different themes, types and chronologies.
The excavation process will also gain traction. An exaction project will be launched in Bonghwang-dong, Gimhae, which is presumed to be the site of royal palace of Geumgwan-gaya, while an investigation will be started into the ancient tombs in Jangsu, Namwon and Suncheon of Honam area. Of the 500 official historical sites, Gaya accounts for 26, and of the 1,274 ancient tombs and fortresses of Gaya, only 392 sites, or 30.8 percent, have been excavated. The heritage agency will also push to register some of the ancient Gaya tombs, including the ones of Daeseong-dong in Gimhae; Marisan in Haman; and Jisan-dong in Goryeong, on the UNESCO World Heritage.
"A recent investigation has found that the cultural heritages of Gaya existed in the eastern part of the Honam area as well," said Kim Sang-gi, the head of the Gaya National Research Institute of Cultural Heritage. "Additional excavation work will help clarify the true bounds of Gaya culture."
Experts say that a budget plan for 2018, which was passed at the National Assembly on Wednesday, reflects an increased interest on the part of President Moon in the Gaya project. The budget for research of ancient Gaya culture has expanded by 1 billion won (913,000 U.S. dollars) to 3.2 billion won (2.94 million dollars). In addition, the separate budget on repair and maintenance of Gaya heritage has also jumped by 2 billion won (1.82 million dollars) to 14.5 billion won (13.2 million dollars).
"It is imperative that we keep the principle of ascertaining historical evidence and conducting thorough research first before embarking on restoration," said an official from the cultural heritage circles. "If the government and municipalities are obsessed with short-term gains, it could lead to another distortion of history."
Won-Mo Yu onemore@donga.com