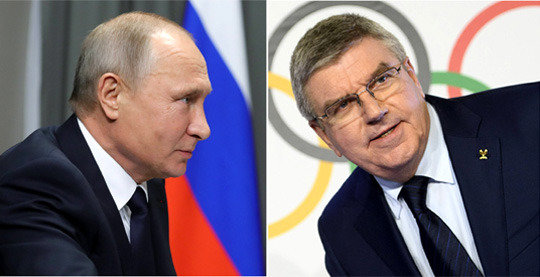 "I will not stop the athletes who wish to compete in Pyeongchang Winter Olympic Games in individual qualifications." The words of Russian President Vladimir Putin have changed the whole air of the Pyeongchang Winter Olympic Games dramatically.
The International Olympic Committee (IOC) held an executive committee meeting on Wednesday and gave a severe disciplinary action to Russia, which was in the center of a doping scandal led by the country, and banned it from competing in the Pyeongchang Winter Olympic Games. But it has allowed the "clean Russian" athletes who passed the separate doping tests to participate in individual qualifications.
"It is an insult to Russia that the IOC is making our athletes compete in individual qualifications," President Putin said last month, hinting a possibility of boycotting the PyeongChang Winter Olympic Games. The worst situation could have been anticipated if Russia had boycotted the Pyeongchang Olympics. But a few hours after the IOC announced the disciplinary action, President Putin visited the GAZ auto manufacturing plant in Nizhny Novgorod where he made his re-election announcement and said, "I know how hard the athletes have prepared for the Olympic Games. The Olympic Games is very important for the athletes."
"The IOC's decision seems to have been made by a political motivation. I've never given athletes assignments to win in previous games and tournaments, including the Sochi Winter Olympics," the Russian president added, denying the suspicions that he was involved in the doping scandal.
Russia will hold a meeting next Tuesday to make a final decision on the participation of Russian athletes in individual qualifications. As President Putin, who spoke his mind about running for Russia's forthcoming presidential election due in March 2018, has approved Russian athletes' participation in the PyeongChang Winter Olympics, it seems that most of Russian athletes will show up in Pyeongchang.
The Olympic host city can also be relieved. Even though Russian athletes compete in individual qualifications, it will not affect the prestige of the Olympic Games that much. The hockey players of Russia's Kontinental Hockey League (KHL), the 2nd highest ice hockey league in the world, and Korean-born short track speed skater Viktor Ahn (Korean name: Ahn Hyun-soo) already spoke their minds about coming to Pyeongchang in individual qualifications. Female figure skater Evgenia Medvedeva could also change her mind to come to Pyeongchang. If Russian athletes can overcome the doping scandal and have good performances, it may bring out a new hot issue.
South Korean Ministry of Culture, Sports and Tourism said in a statement on Thursday, "The Korean government will actively support Russian athletes who compete in the PyeongChang Winter Olympic Games in individual qualifications, as much as supporting a squad of athletes in the level of national teams.
Heon-Jae Lee uni@donga.com · Jung-Min Dong ditto@donga.com