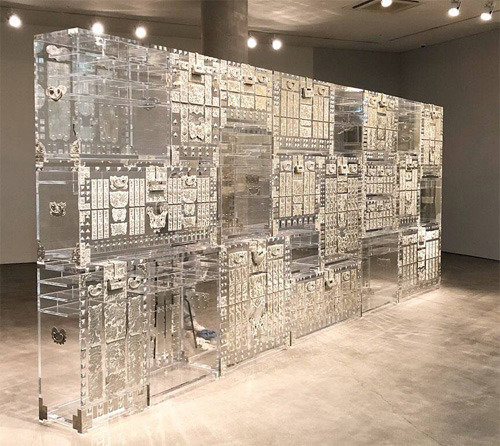 A furniture exhibition has been launched on Tuesday by a renowned fashion designer in Art and Life Style Gallery located in Cheongdam-dong, southern Seoul. Chung Ku-ho is expanding his specialty field into designing Korean traditional furniture. Chung's exhibition features his self-designed "bandaji (clothing chest)" cabinet and wardrobe in a Joseon Dynasty style.
Pyongyang bandaji, a 70- to 80-centimeter clothing chest that was made of strong wood during the Joseon Dynasty, has been transformed into see-through furniture by Chung. The new bandaji is six meters wide and 2.4 meters high, which is so enormous that gave this reporter not only a great impression but also a shock.
"I used a plastic material called 'plexglass.' I wanted to think the usage value of trashed and alienated things," designer Chung said. "Most of furniture does not show its back side, as it is usually hidden by locating against a wall. Also, I wanted to show the back side, thinking that it is hidden even though it a part of furniture."
Chung's clear plastic furniture, which pleasantly busted the stereotype of ordinary brown-colored furniture, is shining even brighter at the exhibit. The exhibit will continue until Jan. 5, next year.
Sun-Mi Kim kimsunmi@donga.com