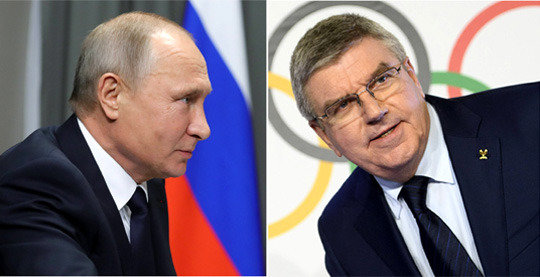 The 2018 PyeongChang Winter Olympic Games may have two faces. Will it be the cleanest Olympics ever in history? Or, will it be a failed Olympics due to declined performance and political controversies? The International Olympic Committee announced Tuesday that it has barred Russia's Olympic national team from the upcoming Olympics over Russia's state-backed systematic doping.
After an Executive Board meeting held in Lausanne, Switzerland on the same day, IOC President Thomas Bach said during a press conference that the doping is a serious attack to challenge both sports and Olympic spirits. Barring a nation due to doping is the first time in Olympic history.
Russia's non-participation is expected to deal a heavy blow to the operation and success of the upcoming Olympics given that Russia is a traditional strong player for winter games.
Russian individual athletes, who have received clearance to compete, however, can participate in the PyeongChang Olympics and will wear uniforms that say "Olympic Athlete from Russia (OAR)." Russian flag won't appear at the medal-award ceremonies, and the Olympic anthem will be performed instead of the Russian national anthem.
The decision has been made based on the recognition that the existence of Olympics itself will be threatened without a proper action. On the contrary, if Russia continuously claims that the decision is a conspiracy from the United States and the Western world, the PyeongChang Olympics, which emphasizes "peace and harmony," will be in trouble. It is also a concern that the number of spectators will be reduced for several major games. Russia plans to announce soon whether it will boycott the PyeongChang Olympic Games.
Heon-Jae Lee uni@donga.com · Jung-Min Dong ditto@donga.com