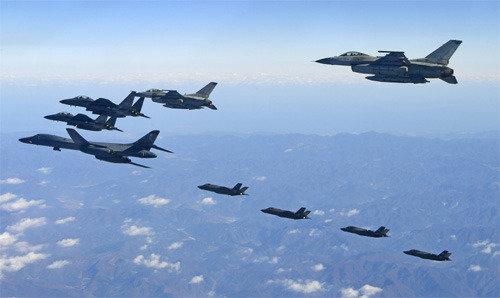 The U.S. military has flown a B-1B bomber over South Korea in a move seen as a warning to the North, South Korea's military said Wednesday. The U.S. bomber launch has come about a month after U.S. President Donald Trump made his first state visit to South Korea. They flyover is also as part of the annual air force drills Vigilant Ace, which ends on Friday.
On Wednesday, the joint military drills saw a U.S. B-1B bomber, which flew in from Andersen Air Force Base, Guam, joined U.S. F-22s and F-35Bs and South Korean F-15K fighter jets over the Korean Peninsula. These fighter jets participated in a simulated bombing exercise targeting the North Korean leadership and nuclear missile fields. F-15K fighter jets drop four bombs during the training at the Taebaek Pilsung Firing Range.
"Through the exercise, the South Korean and U.S. air forces have demonstrated the alliance's strong will and capability for strong retaliation against North Korea's nuclear and missile threats," the Joint Chiefs of Staff said in a statement.
According to sources, the B-1B aircraft can hold 24 cruise missiles and has a top speed of more than 900 mph (Mach 1.2).
Sang-Ho Yun ysh1005@donga.com