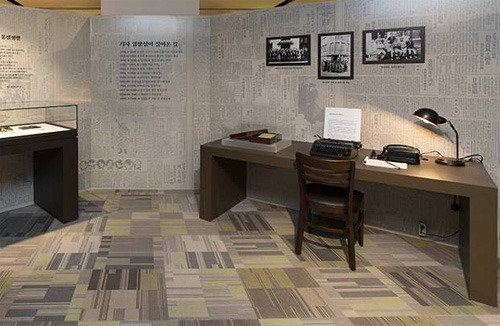 Works of pioneering Korean novelist in the early 20th century Yeom Sang-seop are open to the public at the National Library of Korea, located in Seocho-gu, Seoul. "Gold Ring," a collection of short stories, and "Sunflower," his first written book to be published, are displayed at the exhibition.
Published in 1924, "Sunflower" was inspired by Na Hye-sok, the first Korean female professional painter, and portrays women of the time who rejected the traditional archetype and pursued a right to freely date and marriage. The novel was published serially in The Dong-A Ilbo in 1923, and finally saw the light the following year, just ten days before the publication of "Mansejeon" (Before the Cries of "Manse") on Aug. 10, 1924. His another book "Gold Ring," which was published in 1926, includes short stories such as "Phone," "Waiting Room at Inspection Office" and "Solitude," which depict the daily lives of the modern society in a realistic manner.
The exhibition is divided into seven parts going along with the Korean history from the 1919 Independence Movement to the April 19 Revolution in 1960. The so-called master of realism's rather unknown aspects as a freedom fighter and the behind story of "Mansejeon" are also revealed to the public.
Visitors can take a look at Yeom's traces in Japan, Manchuria and Seoul and the changes made over time in his works. Also reflected in the exhibition is how he was able to learn the world affairs and culture as a reporter first at The Dong-A Ilbo and then at several other newspapers. His personal belongings are also displayed including a serial number chain he used as a naval officer during the Korean War, handwritten scripts, plans for publication, a wallet and a box to store squared manuscript papers.
"Yeom Sang-seop constantly conflicted with and confronted the existing order of the modern era including capitalism and socialism," said Lee Jong-ho, an adjunct professor of Korean literature at Sungkyunkwan University. "He was a leading figure in literary circles, but rejected to join the mainstream society while solidifying his own style." The exhibition will run until Feb. 25 next year, and is free of charge.
Hyo-Lim Son aryssong@donga.com