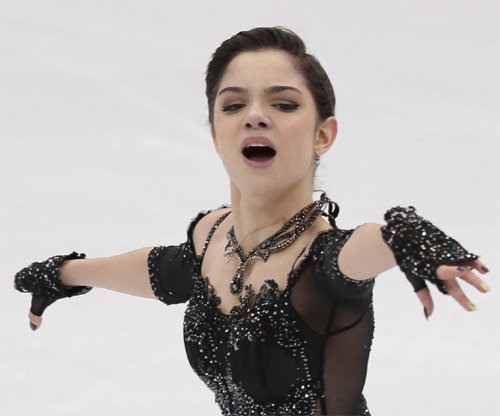 Evgenia Medvedeva (18·pictured), the star figure skater of Russia, is going to show up at an international meeting instead of on ice.
According to Russian media outlets including TACC, Medvedeva, who is currently ranked as the world's best ladies singles skater, is going to attend the executive committee of the International Olympic Committee (IOC) on Tuesday, which will be held in Lausanne, Switzerland. The plan is to persuade the members of the IOC executive board into allowing Russia to compete in the 2018 Winter Olympics in Pyeongchang, South Korea.
Things are not so favorable for Russia at this point. Led by Chairman Dennis Oswald, the IOC Disciplinary Commission dug out the doping scandal surrounding Russian athletes during the 2014 Sochi Olympics to strike out the records of 25 Russian athletes and forfeit 11 medals from Russia. The commission also imposed a permanent ban on the players involved in the scandal from participating in the next Olympic Games.
A potential Russian ban is likely to deal a huge blow to the authority and success of the winter Olympics in Pyeongchang. Initially, Russian players from the Kontinental Hockey League (KHL) the second largest ice hockey league in the world, were going to fill up the vacuum left by the National Hockey League (NHL) players, who decided not to visit Pyeongchang. If Russia is banned from participating, however, it would be a tricky job to send the KHL players to Pyeongchang. While it is possible for the KHL team to attend the games as a neutral country without a national flag or an anthem, such a case is highly likely to lead to a Russian boycott.
In history of Olympic games, there has been no precedent where a country was banned from competing for doping. The final decision will be announced by IOC President Thomas Bach at 3:00 a.m. on Wednesday in Korean time.
Heon-Jae Lee uni@donga.com