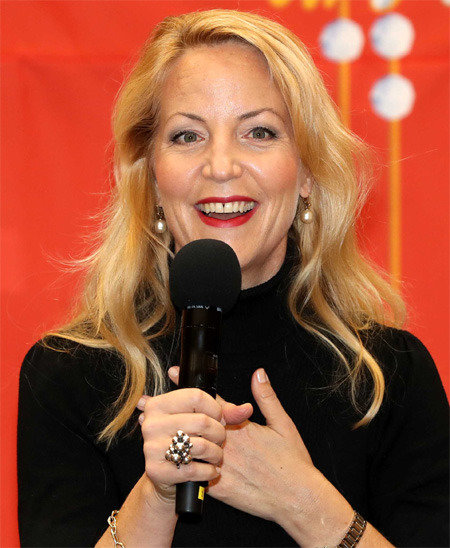 Lise Lindstrom, who is considered the best contemporary Turandot, is starring in "Turandot" on Saturday, a concert version opera to be presented at the concert hall of Seoul Art Center in Seocho-gu, Seoul. Lindstrom has performed the eponymous character in many famous theatres across the world including the Metropolitan Opera in New York, La Scala in Milan and the Royal Theater of Covent Garden in London. Lindstrom performed Turandot at Vienna State Opera for the movie "Mission Impossible: Rogue Nationan (2015)," making herself a more familiar public figure.
"I have performed the same role for more than 150 times. The character Turandot may seem cold-blooded in the show, but she is humane just like me," Lindstrom told reporters on Monday. Dubbed the "Ice Princess" for her sharp, piercing voice, crystal articulation, as well as her striking height at 5'97", Lindstrom is considered as the most suitable actress for the cold character of Turandot. "I think that I am lucky to be gifted with my voice," said Lindstrom. "I got even luckier with my slender build. I will do my best to use my voice and body as an instrument to play the best song."
Having performed various different roles such as Elektra, Salome and Brünhilde, she is still mainly associated with Turandot by many theatre producers.
"I have played Turandot so many times, but it feels different and new every time," said the American soprano. "I have never felt that I had finally learned enough about the character, and I still want to know more about her."
She also expressed her special love for the character, which changed her life forever. "People say that I am a late-bloomer, but I think I waited a bit longer," she said. "It is true that Turandot changed my life, and I will do my best not only for Turandot but in all other works."
Korean tenor Park Sung-kyu, who performed with Lindstrom at Covent Garden in July, will play the role of Prince Calaf, and soprano Seo Seon-young will play Calaf's maid Liu.
Dong-Wook Kim creating@donga.com