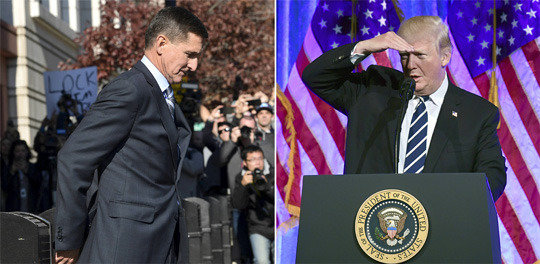 "Special counsel Robert Mueller's investigation into Russian meddling in the U.S election has just penetrated the White House gates."
It was an assessment by Politico, an American political journalism, on Friday (local time) after U.S. President Donald Trump's former national security adviser Michael Flynn told investigators that a senior official of the president's transition team "directed him to make contact with the Russians." CNN and many other media outlets are putting Jared Kushner, President Trump's son-in-law and a senior presidential advisor, in the spotlight as the potential senior. The special investigation into Trump-Russia collusion has now struck at the heart of the White House.
Michael Flynn appeared in a Washington, D.C. courtroom and said that on Dec. 22, 2016, shortly after Mr. Trump won the presidential election, he was instructed to contact Russian government officials, taking direction from a "very senior member" of the transition team. Media reports quoted Flynn, who was charged on making false statements to investigators, through court documents, as saying he contacted former Russian ambassador to the United States Sergey Kislyak in December 2016, in his guilty plea agreement.
Flynn is reported to have agreed to cooperate with the Special Counsel's office on his son's alleged felony crime. However, he only acknowledged that he spoke with the Russian envoy about pending or aborting the United Nation's anti-Israel vote while denying accusations of treason, possible ties between Trump's election campaign and the Russian government.
President Trump strongly denied the allegations. "He has pled guilty to those lies. It is a shame because his actions during the transition were lawful," Trump tweeted. "I had to fire General Flynn because he lied to the Vice President and the FBI. He has pled guilty to those lies."
"I'm not worried about Flynn's guilty plea. There was no collusion with (the Russian government)," Trump told reporters earlier in the day. "What has been shown is no collusion, no collusion, so we're very happy."
"Nothing about the guilty plea or the charge implicates anyone other than Mr. Flynn," the White House says.
Jeong-Hun Park sunshade@donga.com