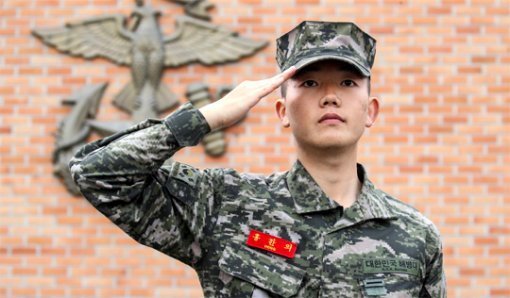 A computer engineer, who attends one of the most prestigious schools in the United States, has become an imposing marine. At the completion ceremony for the new marine trainees of the Marine Corps, held in Pohang city, North Gyeongsang Province, south of Korea, on last Thursday, 21-year-old private Hong Chan-eui was full of pride wearing an octagonal marine cap and a characteristic red name tag. To Hong, who had been dreamed of becoming a marine since middle school, it was truly monumental that he has joined the Marine Corps.
Hong went study abroad in 2008 when he was in elementary school and graduated from middle and high schools in Canada and the United States. He got a perfect score on the SAT, an examination to enter a U.S. college, and was admitted to computer engineering department of Harvard University with a full scholarship.
He decided to join the Marines on the occasion of the North Korean bombardment of South Korean Yeonpyeong Island on November 23, 2011. He was in middle school in Canada back then, and deeply impressed by the marines who were risking their lives and fighting back from the burning K9 Thunder 155 mm self-propelled howitzers. Later, he has made a promise to himself to protect his family and country, following in the footsteps of those lionhearted marines.
Hong's parents advised him to serve positions such as a linguist in the military and substitute service in a company or a research institute. Given that he has fluent English and computer engineering skills, the parents did not want to see their son put in harm's way by enlisting into a dangerous and tough Marine Corps.
Hong persuaded his parents for a long time that his enlistment would be a great opportunity to make him grow stronger. Several months before the enlistment, he made his body strong through persistent exercise and weight loss such as running and pushing up.
He arrived in Korea in August, passed the marine selection test including physical fitness and interview in October, and got through its notoriously hard training course.
"After Harvard, the Marine Corps is the second challenge in my life, but being a marine is much more valuable than entering Harvard," said an aspiring marine-and-engineer. He is scheduled to perform an information and communication mission at the 2nd division of Marine Corps in Gimpo, Gyeonggi Province after four weeks of medical education.
Sang-Ho Yun ysh1005@donga.com