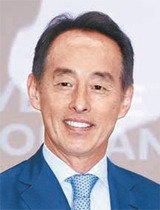 "Bio and future cars will be the treasure house of data," said Sohn Young-kwon, president of Samsung Strategy and Innovation Center (SSIC) who has been recently tasked with discovering new sources of prosperity for the company's future, at a leading startup event in Europe. "The challenge faced by Samsung Electronics is to transform itself from a product-driven company to a data-driven company," he added, stressing the importance of data at his first public appearance as the current role and thereby drawing attention to Samsung Electronics' future strategy.
According to Samsung Electronics and the Korea Trade-Investment Promotion Agency (KOTRA) on Sunday, Sohn gave a keynote address at an event "SLUSH 2017" held in Helsinki, Finland, last Thursday (local time). The event was the biggest of its kind celebrating the centenary of Finland's independence, and was attended by the world's renowned figures including one of the keynote speakers Al Gore, former vice president of the United States.
"Data" was a keyword in his speech themed "Driving Innovation in the Data Economy." "In 2007, a considerable number of the world's conglomerates were in the oil industry. However, most valuable companies are now in the data industry," he said, mentioning a super-connected world, data explosion, artificial intelligence (AI) and machine learning, the end of Moore's Law and cyber security as the five "perfect storms," which may soon arrive bringing enormous changes.
Sohn viewed that Samsung would be able to seize business opportunities if the company spot technical changes in early stages and put in efforts to utilize data as new resources. What is notable is that he highlighted bio and future cars, namely autonomous cars, among numerous areas that generate data, in a possible indication that such areas will have the highest priority if Samsung collaborates with or considers the merger and acquisition of startups in the future.
"As 'connecting' data to devices and services is becoming more important, the task of Samsung Electronics would be renovating itself from product-driven to data-driven. That is why we are building an AI center and focusing on AI research," said Sohn. "Samsung made a broad change to top management despite its highest-ever performances. We have great interest in diverse technologies, and we will strengthen our partnership with startups and boost related investment."
Sung-Gyu Kim sunggyu@donga.com