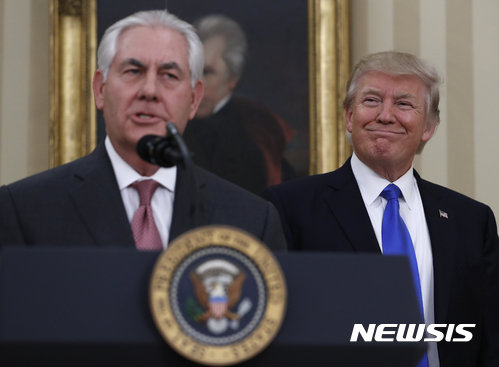 "We are really asking them to please restrain more of the oil, not cut if off completely," U.S. Secretary of State Rex Tillerson told reporters Thursday (local time) at the State Department in Washington before meeting with his German counterpart Sigmar Gabriel, revealing for the first time that the U.S. government is calling on China yet again to control its oil supply to North Korea, not entirely but partially.
"We do think China could do more with the oil," said Tillerson. "That was the most effective tool the last time the North Koreans came to the table."
The U.S. top diplomat's mention of the limited restraint on oil supply to the North seemed to take into account Beijing's possible backlash against a complete ban on oil exports, which it sees may lead to a humanitarian disaster for North Korean residents. The U.S. State Department's push is a "move that would deal a crippling blow to Pyongyang's economy," AFP reported.
While considering independent sanctions to be imposed on China's financial institutions, the U.S. government is also pushing for the "maritime interdiction" of vessels transporting goods to and from the hermit kingdom, further cornering the North's old ally China.
"I am not willing to say that diplomacy has not worked. We will continue to work diplomatically, we will continue to work through the Unite Nations," said U.S. Defense Secretary James Mattis Thursday. "At the same time, our diplomats will speak from a position of strength because we do have military options."
Meanwhile, Secretary of State Tillerson will travel to visit Belgium, Austria and France from Monday to Friday. He will attend the North Atlantic Treaty Organization (NATO) Foreign Ministers Meeting in Brussels to discuss major global issues, and will fly to Paris to discuss with senior French leaders issues of mutual concern around the world including in North Korea, Syria and Iran.
Mr. Tillerson's position as Secretary of State, however, seems to be shaking as multiple U.S. media outlets are expecting that he will be replaced with CIA Director Mike Pompeo within the next several weeks. More are voicing concern over continuous changes in the position of the country's top diplomat and resulting difficulties in running the department.
White House press secretary Sarah Huckabee Sanders officially denied the alleged replacement of Tillerson, saying, "When the president loses confidence in somebody, they will no longer be here. The Secretary of State (and the president) will continue to work together to close out what has already been a very strong and positive year." When asked whether Tillerson would stay in his job on the same day, President Donald Trump simply said, "He is here. Rex is here."
Yong Park parky@donga.com