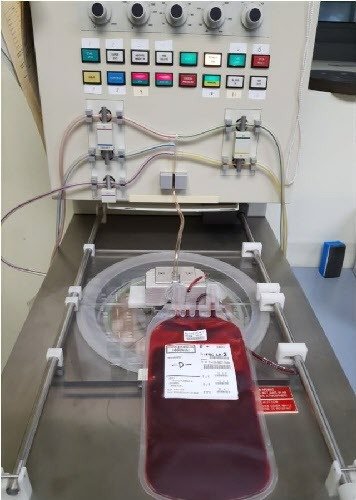 An airplane departs from Kansai International Airport in Japan, at 5:00 p.m. Thursday to Gimpo International Airport in Korea, and in its cargo compartment, there lied a white Styrofoam box filled with dry ice, containing five units (400mL pet unit) of scarlet frozen blood. It was "Bar D Bar Bar D Bar (-D-/-D-)" blood, which is an extremely rare blood type. On the next morning, the thawing liquid, which is mandatory for thawing frozen blood, left the U.S. Army Base in Pyeongtaek to Severance Hospital in Seoul. The hospital in Pyeongtaek U.S. Army Base is the only place that has the thawing liquid for blood in Korea.
Thanks to the cooperation of Korea, Japan and the United States, the heart of an elderly lady named Kim Dong-geum (age 72), a patient hospitalized in Severance Hospital who has a rare blood type, could beat once more. It would not have been possible if Japanese Red Cross Society hadn't provided blood, or if the U.S. Army hadn't owned the thawing liquid. This is the second time for a patient with rare blood type to have blood transfusion with the blood transported from overseas, since the first case in 2004.
Kim was hospitalized on Nov. 2, and she was diagnosed with "infective endocarditis," a disease in which a lump of bacteria causes inflammation on the heart. The cardiac valve was damaged, and the blood flowed backwards, which required an urgent surgery. However, the medical staff faced an unexpected obstacle as Kim's blood type was "Bar D Bar Bar D Bar," the rarest of all of the rare blood types.
They needed to obtain this rare blood in order to conduct a surgery. Upon the request from the hospital, the Korean Red Cross found four people with the same blood type from the blood donor database. But after conducting complete medical examinations, all four of them were determined as "impossible to donate blood." The Korean Red Cross sent an SOS to the Japanese Red Cross Society. Unlike Korea, Japan has stored frozen rare blood in the government level since long ago. Thankfully, there was frozen Bar D Bar Bar D Bar blood in Japan.
The last obstacle was that after using five units of blood, there was no more blood to transfuse. Dr. Lee Seung-hyeon of cardiovascular surgery who was in charge of the surgery, minimized the incision to reduce the amount of blood transfusion as much as possible. Kim's heart was stopped for 36 minutes during the surgery, but thanks to the effort, her heart could beat again even by receiving three out of five units of blood transfusion. Kim, who is now waiting to leave the hospital, said, "I'd like to thank all of them who got the rare blood, and I'd also like to thank the blood donors, although I don't know that their face or name."
Ho-Kyeong Kim kimhk@donga.com