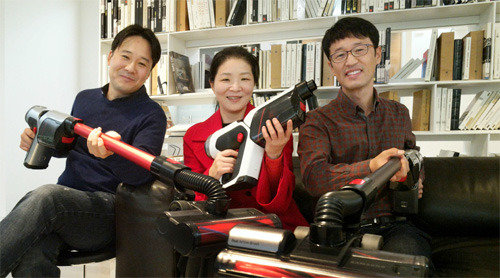 A Samsung Electronics designer contemplated on how to disperse the weight when he designed top-heavy (motors attached to the handle), cordless vacuum cleaner "Power Gun."
As a member of the design team of Samsung Electronics' Consumer Electronics Division, Seo Seung-uk started the design of the vacuum cleaner with pressure that it needs to be superior to rival products due to its late advancement into the market. His aim was to hit two birds — weight and performance — with a stone.
This reporter met Seo, researcher Yoo dong-hoon of the Consumer Electronics Division and Jeong Yoo-jin, the head of the Strategic Marketing Team, at Samsung Electronics' headquarters in Suwon, a suburb of Seoul, last Friday, and talked about how they adopted the industry-first "Flex Handle" function.
Flex Handle has been adopted to reduce the weight felt by the user. Vacuum cleaners are bound to be heavy when they are mounted with long-life batteries and high-performance motors. Their goal was to reduce the weight while maintaining the performance of batteries and motors.
"Using a vacuum cleaner with wrists bent unnaturally can put a lot of stress on arms," said Yoo. "That is why we placed joints to our product so that the user can change the angles of the vacuum cleaner regardless of their pose."
Flex Handle can reduce the stress on the user's body to one-third. To measure the effectiveness of the handles, the "human engineering lab" conducted an electromyography (EMG), which measures how active muscles are. The EMG activity of lower arm muscles was 39μV when users cleaned underneath of a furniture without Flex Handle, whereas it was 13μV with Flex Handle.
Jae-Hee Kim jetti@donga.com