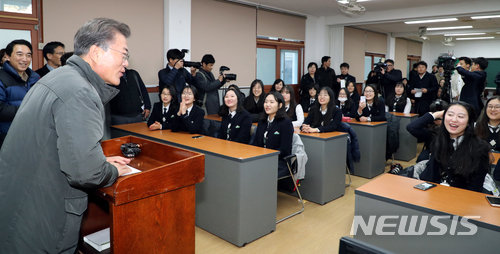 President Moon Jae-in made a surprise visit Friday to the southeastern city of Pohang, nine days after that a 5.4 magnitude earthquake hit the region. Departing for Pohang at 8:30 a.m., Moon stayed in the city by 1 p.m. inspecting affected places such as a school, apartment complex and shelter and comforting the hearts rattled by the quake.
President Moon's first stop upon arrival was Pohang Girls' High School, which suffered damage with some of its classrooms cracked. He looked around a temporary classroom prepared for one class of seniors whose original classroom was severely damaged.
"It was a very difficult decision to postpone the annual college entrance exam following the earthquake as the number of the students taking the exam in Pohang accounts for less than 1 percent of all test-takers. Thankfully, most people, parents and students in other regions remained supportive and rooted for Pohang's students. This is truly a grateful gesture," Moon said. "I believe that in such big hearts of the people who are considerate and mindful of the minority lives hope for a better future of Korea."
He then stopped by Heunghae Gymnasium to meet with hundreds of displaced residents. Those who had been forced out of their homes seeking refuge at makeshift shelters made impassioned pleas for help, requesting the government to clarify a response manual in case of disasters, shut down local nuclear reactors and increase the amount of compensation for damaged buildings.
"What is important is demolishing uninhabitable buildings and providing new housing for residents. The government will exert utmost efforts to speed up reinforcement work on the quake-hit buildings," said President Moon. "We will also come up with fundamental measures against earthquakes. If the special subsidy for disasters can be used for prevention, the government will be able to execute the budget in making buildings earthquake-resistant."
weappon@donga.com