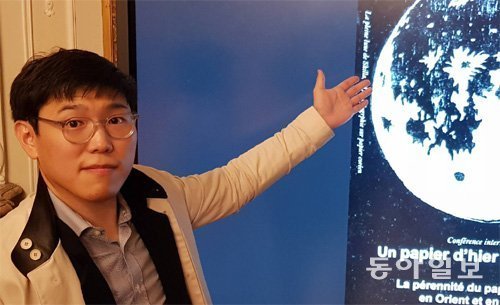 On Thursday (local time) at the Richelieu Wing of the Louvre in Paris, Kim Min-jung, a restorer of cultural assets, and the director of the Louvre were going through final checklists for the conference slated to be held in the coming month.
"The people concerned with cultural properties restoration from the Orsay Museum and the Pompidou Center will be attending the upcoming event. This will be a golden opportunity to show the traditional Korean paper Hanji to museums around the world," Kim said with much anticipation, recalling a painful memory when he first introduced Hanji used for restoration of cultural assets three years ago here at the Louvre, which was not well received. Kim is a 30-year-old Korean restorer who works for the Louvre, one of the top three museums in the world, preparing a conference to introduce the excellence of Hanji to the whole world.
For the first time last week, the Louvre bought Korean paper Hanji to be used for the restoration of cultural properties on the occasion of the museum's successful restoration of Maximilian II Emanuel's desk in the Kingdom of Bavaria in the 19th century by using Hanji paper provided by South Korea's Jeonju City in April. The desk is now on display after the damaged part of the padlock in its drawer was completely restored by Hanji.
The Louvre has been interested in Hanji since Kim began working as an intern for the museum's restoration room in 2014. He moved to France with his grandmother at the age of 14 and graduated from Paris 8 University, majoring in art conservation and restoration before he joined the museum.
He participated in a project on returning Oegyujanggak Uigwe, or the royal books, from France in 2008 under Dr. Park Byeong-sun, who discovered Jikjisimcheyojeol: Anthology of Great Buddhist Priests Zen Teachings, the world's first metal printing types. Kim said it was his life-changing experience. He worked with Dr. Park for three years and began to take an interest in the Korean paper Hanji.
In fact, the paper used for restoration of cultural assets in the world, including the Louvre, is dominated by the Japanese paper Washi. Museum restorers who are accustomed to using the Japanese paper demanded that Kim "prove Hanji's excellence." He experimented with the difference in restoration power by wetting Japanese Washi and Korean Hanji and demonstrated that Hanji is preserved for a long time because of its little shrinkage and deformation and Hanji's great adhesion power makes it better medium for restoration. Ariane de la Chapelle, the head of the restoration team at the Louvre, who was fascinated by Hanji's permanence, was a reliable support for Kim.
Kim joined the Korean army in 2015 at a later age. He could have been exempted from military service and abandoned Korean nationality, but he enlisted for the killed in action recovery and identification resources in the Ministry of National Defense.
"Dr. Park always told me during his lifetime, 'I should do what I can do for our country and do something to let the world know about our cultural heritage, instead of asking what country can do for you,'" said Kim. "My great ambition is to change all the paper used for restoration in the world into the Korean paper Hanji."
Jung-Min Dong ditto@donga.com