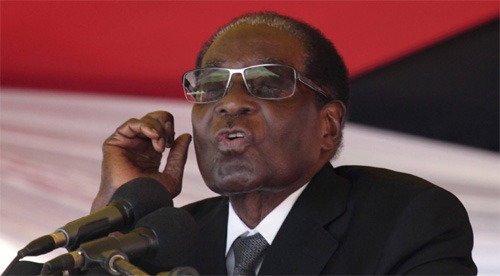 Jubilant Zimbabweans took to the streets across the country to celebrate the end of an era on Tuesday as Robert Mugabe resigned as president.
After being sworn in as Zimbabwe's first prime minister in 1980, held power for 37 years and once said "only God" could remove him. However, his greed for power cost him his power.
He purged his long-time ally and likely successor Vice President Emmerson Mnangagwa on Nov. 6, paving the way for his wife Grace to succeed him. The situation took a sudden change, as Zimbabwean military took over the government and forced Mugabe to resign. His own ruling ZANU-PF party and opposition parties introduced a motion together to impeach him on Tuesday afternoon.
Jacob Mudenda, speaker of the country's parliament, announced on state-run television around 5:50 p.m. on Tuesday that Mugabe had submitted his letter of resignation. The letter read out by the parliamentary speaker said the decision was "voluntary" for a "smooth transfer of power." The resignation halted the impeachment process.
Former Vice President Emmerson Mnangagwa, who is reportedly in exile in South Africa, will likely return to Zimbabwe to take over power. A spokesman for the ZANU-PF party said Mnangagwa would be officially sworn in as president.
Min-Woo Park minwoo@donga.com