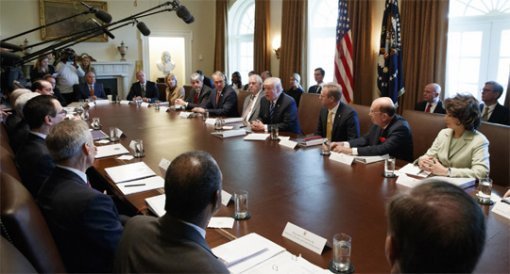 U.S. President Donald Trump has placed North Korea back on the list of state sponsors of terrorism in nine years in a direct move to go against expectations that the two countries may decide to bring themselves back for long-awaited dialogue. With the latest designation, tensions seem likely to only grow between Washington and Pyongyang.
On Monday (local time), President Trump and Secretary of State Rex Tillerson cited the killing of North Korean leader Kim Jong Un's estranged half-brother Kim Jong Nam at a Malaysian airport in February and the death of American citizen Otto Warmbier after he was taken into custody in North Korea, as an act of terrorism. The official designation of Pyongyang as a state sponsor of terrorism is the first to be made since 2008. Decrying Kim's "murderous regime," Trump also condemned the rogue regime, saying, "In addition to threatening the world by nuclear devastation, North Korea has repeatedly supported acts of international terrorism including assassinations on foreign soil."
Once designated as a state sponsor of terrorism, the country is banned from conducting any arms-related export and sales. The export of "dual-use" items, which are meant for civilian purposes but could enhance the country's military capability or ability to support terrorism, is also controlled. Moreover, a designated country is prohibited from receiving overseas assistance from the United States and most of other countries. Financial restrictions are also imposed while a terrorist-list state is banned from taking out loans from the U.S. Export and Import Bank or other international financial institutions.
Washington will announce additional sanctions Tuesday, which will reportedly ban around 15 companies including Chinese businesses from engaging in any transactions with U.S. companies. Most companies on the list are known to be China's trade firms that have supported North Korea in its developing of weapons. Yet, the United States did not include the large conglomerates of China being accused of supporting Pyongyang and under investigation in the list, possibly taking into consideration China's cooperation in implementing sanctions on the North. Also, the new sanctions to be announced are reportedly not a secondary boycott with which Iran was slapped that would affect all companies that do business with North Korea.
sunshade@donga.com · wizi@donga.com