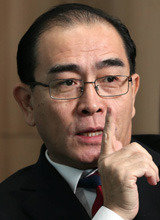 North Korean leader Kim Jong Un is expected to put pressure on South Korea around the PyeongChang Winter Olympic Games slated for February next year with the so-called "freeze-to-freeze" deal, which refers to China's proposal to suspend joint military exercise by South Korea and the United States in exchange for North Korea halting nuclear and missile tests, according to Thae Yong-ho, a former North Korean diplomat who defected to the South last year and is currently serving as a consultant to the Institute for National Security Strategy.
In an exclusive interview with The Dong-A Ilbo held Tuesday (Korean time), the day when the United States redesignated North Korea as a state sponsor of terrorism in nine years, Thae said, "Kim Jong Un will take advantage of South Korea's wish to peacefully host the PyeongChang Olympic Games to threaten the South to stop the joint military exercise with the United States."
"The North will carry out the 7th nuclear test in order to complete its nuclear and missile development and another atmospheric test, firing a warhead-tipped intercontinental ballistic missile (ICBM) to prove the success of its weapons program," said the former North Korean diplomat. "To make it happen, it will use freeze-to-freeze deal as an excuse." But Tae predicted that the regime could cut off any dialogue with the United States to buy some time without additional provocation within the year.
He translated the fact that Kim Jong Un did not meet with Song Tao, special envoy of Chinese President Xi Jinping, as a sign of another provocation next year. "Kim Jong Un must have thought that Song would deliver President Xi's message to stop nuclear and missile tests," said Thae. "It would have been difficult for Kim to welcome and meet with Xi's envoy when he was critical of China strengthening sanctions against the North."
Suk-Ho Shin kyle@donga.com · Gi-Jae Han record@donga.com