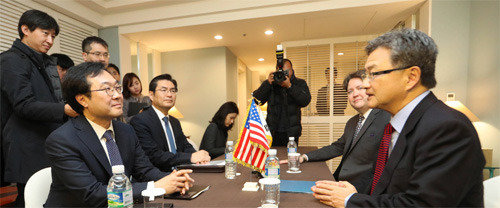 Song Tao, head of the Chinese Communist Party's International Liaison Department, arrived in North Korea on Friday. As a special envoy of Chinese President Xi Jinping, Song is expected to deliver messages from South Korean President Moon Jae-in, U.S. President Donald Trump and Xi to North Korean leader Kim Jong Un.
Song departed from Beijing Capital International Airport and arrived at Pyongyang Sunan International Airport on Friday afternoon. North Korean ambassador to Beijing Ji Jae Ryong came to the airport to send him off to Pyongyang. They talked for about 30 minutes at a VIP room in the airport.
During his 4-day stay in North Korea, Song is expected to meet with Kim Jong Un and deliver the coordinated message from Xi's meeting with Trump and Moon last week.
Through Song, Xi would say to Kim that Trump is willing to discuss with the North if North Korea stops its provocative activities such as nuclear program development and intercontinental ballistic missile test. Trump showed huge anticipation Thursday before Song leaves for China, hinting at a close coordination between Trump and Xi as to the message to be delivered by Song.
Song is also expected to convey South Korea's message to Kim from the talks between Moon and Xi during the Asia-Pacific Economic Cooperation summit in Vietnam. This will be an opportunity for Moon to show his willingness to talk with the North and invite the North to the PyeongChang Winter Olympics in February.
Lee Do-hoon, South Korea's special representative for Korean Peninsula peace and security affairs and senior representative for six-party nuclear talks, visited China in October and requested his Chinese counterpart, Assistant Foreign Minister Kong Xuanyou, to tell the North to stop provocation until the 2018 Winter Olympics. Song plans to deliver this message to the North on behalf of South Korea.
Since the beginning of his second term in October, Xi has been making efforts to improve its relations with South Korea, Japan and South East Asian countries under the banner of new form of global relationship aiming at cooperation and co-prosperity. Through its special envoy to the North, the Chinese government is expected to emphasize its determination to improve relations between China and North Korea at a time when two countries' relationship is in the worst form due to a series of provocations by the North.
China is highly likely to pressure Kim that Beijing cannot deny the Washington's demand to cut crude oil supply to Pyongyang if the North Korean leader fires a missile again or engages in any provocative activities.
Wan-Jun Yun zeitung@donga.com · Dong-Yeon Jung call@donga.com