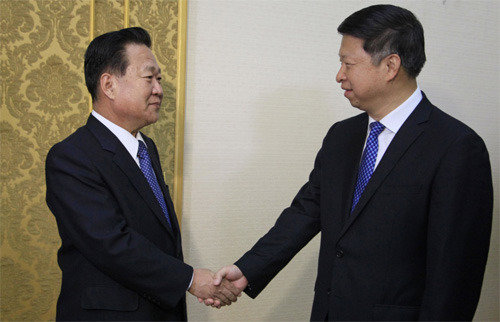 Washington's Special Representative for North Korea Policy Joseph Yun, who attended a meeting to discuss the denuclearization of North Korea held on the southern resort island of Jeju on Friday, told reporters after the meeting, "We do hope that (China's) special envoy will forward that goal."
"It could have a very significant meaning considering the current situation," also said his Korean counterpart Lee Do-hoon, indicating their expectation that China's special envoy to North Korea Song Tao, head of the Chinese Communist Party's International Liaison Department, can help bring a thaw in the relations between South and North Korea.
Mr. Lee and his U.S. counterpart discussed the North's intentions lying in a two-month lull in provocations. Also high on the agenda was whether Song's visit to North Korea will lead to the return of Pyongyang to multilateral diplomacy channels such as the stalled six-party talks. On the previous day, U.S. President Donald Trump also hailed China's sending an envoy to the North, saying it is a "big move" on his Twitter account. Experts say that Trump's decision not to designate North Korea as a State Sponsor of Terrorism contrary to expectations signals he will keep an eye on the future movements of China.
Yet, the two nuclear envoys have made it clear that sanctions and pressure on the North will still be in place. "We (still) have a long way to go to make progress (on North Korea's nuclear issue)," said Yun in his opening statement, suggesting that the positive turn of circumstances including the easing of sanctions will not be easy to come unless Pyongyang sends a precise signal at possible denuclearization.
According to a diplomatic source, the two nuclear negotiators have agreed to escalate the level of South Korea-U.S. information exchange so that sanctions on North Korea can be effective as intended. In the meeting, Yun reportedly emphasized a role to be played by China, mentioning the effectiveness of the withdrawal of North Korea's laborers in China.
Jin-Woo Shin niceshin@donga.com