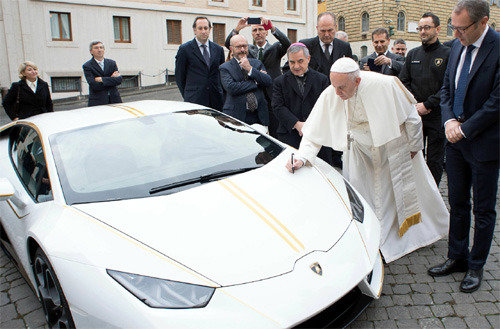 Pope Francis has decided to auction a supercar Lamborghini he received for charity.
The Telegraph reported on Thursday (local time) that the Pope had received a Lamborghini Huracán from the luxury supercar manufacturer. The vehicle, specially designed for the Pope, was painted white, which symbolizes the Vatican, with gold stripes. It is estimated to cost around 180,000 euros (approximately 230 million won). The Pope blessed it outside the living quarters of the Vatican and signed its bonnet in St Peter's Square.
The Vatican announced that it will auction the car at Sotheby's and donate to three charity organizations. The money will go to charity groups that support women immigrants suffering from prostitution due to human trafficking as well as medical aid groups serving Africa. Some of it will be used to rebuild Christian villages in Iraq destroyed by the IS.
The Lamborghini Huracán is predicted to be auctioned off at a price exceeding its normal value. In 2014, the Pope auctioned off a Harley Davidson he received as a gift for 327,000 dollars (some 360 million won). The Pope's iPad was sold at 30,500 dollars (approximately 33 million won) in 2015.
wizi@donga.com