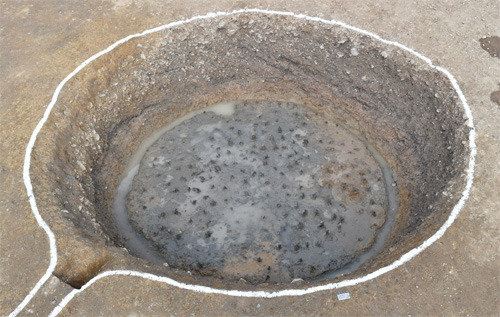 A booby trap designed to harm soldiers and horses was discovered at a fortress from the Joseon Dynasty. The booby trap, which has bamboo spears at the bottom and covered with grass, is the first of its kind to be found among relics in Korea
The Haneul Research Institute of Cultural Heritage announced Wednesday that it confirmed a moat (a deep, wide channel dug round a castle to protect it from outside attacks) and 64 historical remains of traps near the Byeongyeongseong Fortress (Historic site no. 397) in Gangjin County, South Jeolla Province
The traps were found outside the moat, which surrounds the South Gate. Round pits are dug 3.5-4.9 meters wide and 2.5 meters deep. Sixty-four pits are arranged in parallel in 6-8 meters apart in two or four rows.
At the bottom of the pit, many bamboo spears are arranged so that their sharp edges are stuck up in the air. Branches of nut pines and grass are also found, which appear to be arranged to disguise the traps.

The Jeolla Fortress, which had been built initially in Gwangju in 1388 during the Goryeo Dynasty, was relocated to Gangjin in 1417 to defend Japanese invaders. It served as the region's headquarters commanding the military forces in the Jeolla region and Jeju Island. This year celebrates its 600th anniversary.
Minboeui, written by Joseon scholar Jeong Yak-yong, is the most commonly known historical document that made reference of traps in the Joseon Dynasty. Jeong described Hammagaeng, a trap that used bamboo pieces to harm the enemy's army and horses.
Sang-Un Kim sukim@donga.com