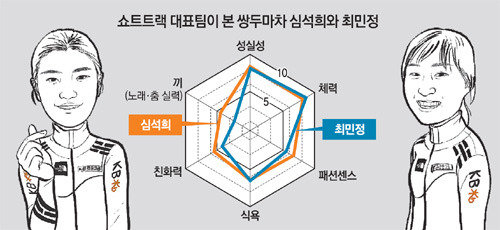 At a media day event held in Seoul on Wednesday, a day before the opening of the fourth and the final leg of the International Skating Union (ISU) World Cup Short Track Speed Skating, the South Korean national team's speed skaters released the result of a survey among themselves on how they see one another in terms of physical strength, sincerity, fashion senses, congeniality and entertainment talents (singing and dancing). Twelve athletes – six men and six women – rated others on a scale of 1 to 10. The survey was taken as the team's new attempt to introduce the athletes to spectators.
Choi Min-jeong, who swept gold medals in all of the four events she participated in the first World Cup that ended last month, won the high score of 8.7 out of 10 in physical strength, exceeding male athletes. Although Choi, who is 162 centimeters tall, is shorter than other athletes, she is assessed to possess explosive speed. Therefore, she is the strongest candidate for the country's first gold medal in women's 500-meter race. Nicknamed "Ice Princess" for her cool-headed competitive spirit, she won the lowest score of 2.2 in entertainment talents.
"I think I have to admit that I don't have such talents," she said, laughing out loud. "It seems that I've received the highest score in physical strength because I probably looked the best in strength among others."
In sincerity, Shim Suk-hee, the captain of the national team, received the highest score of 8.4 due to her sincere attitude shown during training that inspired colleagues. With superb ability to manage her races, she occasionally plays the role of a "field commander" during 3,000-meter relays.
Hong-Gu Kang windup@donga.com