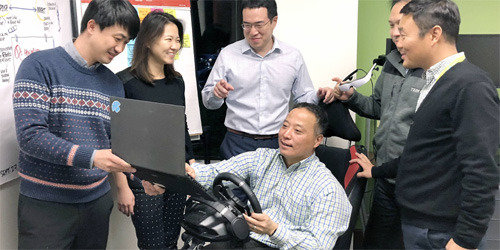 Hyundai Motor Group plans to open the Open Innovation Center in the United States in order to engage in joint research activities with cutting-edge start-ups in Silicon Valley. Hyundai has recently come up with series of strategies to expand its global partnership, and its investment in Silicon Valley seems to be at the forefront of Hyundai's efforts. All eyes are now on whether Hyundai will turn its global expansion into actual profits.
Hyundai Motor Group said Wednesday that it will open the Hyundai Cradle in Silicon Valley, which is a much expanded and functionally upgraded research center of the existing office "Hyundai Ventures." As the word "cradle" implies, the new research center aims at developing innovative technology that can drive future growth. Hyundai plans to adopt an open innovation approach to its new research center to invest in promising start-ups in Silicon Valley and conduct a joint research with them on new and innovative technology. Main research fields will include artificial intelligence, auto-driving, smart city and robot.
According to Hyundai Motor Group, Hyundai Ventures was no more than a local liaison office in Silicon Valley. Five to six employees had been mostly required to report updates in the technological status in Silicon Valley to Hyundai Motor's headquarters in Korea. Hyundai has decided to hire more employees at Hyundai Cradle, and the priority is to hire a coordinator who can contact with start-ups in Silicon Valley. The company also plans to make more spaces for a joint research.
Though Hyundai Cradle is built in the United States, its functions will not be limited within the U.S. mainland, according to Hyundai Motor Group. The newly expanded research center will serve as a research hub of Hyundai and comprehensively manage research activities throughout the world. In this context, Hyundai aims to create a close cooperative network among the U.S. research hub, research labs in Korea and the Open Innovation Center in Israel to be built in early 2018.
Hyundai Motor Vice Chairman Chung Eui-sun has been leading Hyundai's global expansion with its Open Innovation Center. Chung has visited Silicon Valley several times this year to open Hyundai Cradle. He has also been at the center of promoting Hyundai's global partnerships with companies such as Mobileye and Nvidia.
Some analysts say that Hyundai Motor Group's increased research activities in Silicon Valley are attributable to the U.S. government's complaints about trade imbalance in the auto sector between Korea and the United States.
Hyundai Motor Group has said that the company will invest 3.1 billion U.S. dollars in the United States for the next five years. As it could be burdensome for the company to build a new plant given its declining market share in the United States, Hyundai has decided to invest in start-ups to share the outcomes globally.
Woo-Shin Han hanwshin@donga.com