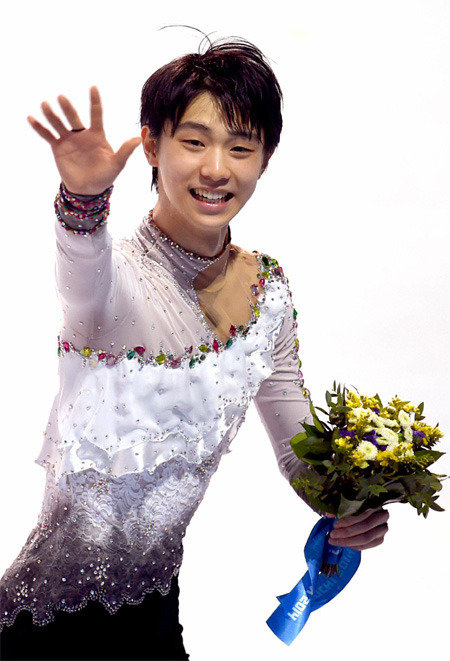 The "Yuzuruha shrine" in Kobe, Japan has become a must-visit place for Japanese figure skating fans. For fans, this place is called the "Holy Land" of Yuzuru Hanyu, the top figure skating star of Japan. Loyal fans of Hanyu visit the place and pray for him to perform his best as the name of the shrine sounds similar to that of the top male figure skater from Japan.
Fans' prayers have recently become even more ardent. "More and more fans of Hanyu visit the shrine to pray for him to recover quickly from his injury," NHK reported Tuesday.
"I prayed for Hanyu to recover from the injury and compete in the Olympics in his best condition," one fan said.
Yuzuru Hanyu, the favorite to win the men's singles title at the 2018 PyeongChang Olympic Games, suffered ligament damage to his right ankle while landing a quad Lutz on Thursday during a practice for the NHK Trophy, a figure skating competition held as part of the ISU Grand Prix of Figure Skating series. He eventually withdrew from the competition.
According to Japanese news media, it would take three to four weeks for him to recover from the injury. But the prospects for becoming a two-time Olympic champion look grim as ankle injury can be critical when it comes to figure skating.
"Figure skaters can lose jumping consistency if they don't skate for just two days," said an official from the Korea Skating Union. "Hanyu might fail to earn high points if he loses confidence on quad jumps after suffering the injury."
Tickets for the men's figure skating event at the Olympics might not be sold well if Hanyu does not compete in the Olympics due to the severity of the injury. The reigning Olympic champion proved his "ticket-selling power" at the 2017 ISU Four Continents Championships that was held in Gangneung, Korea in February, gathering hundreds of Japanese fans.
"Japanese fans who had stayed at our motel during the Four Continents asked for a reservation saying they would definitely stay at our motel during the Olympics," said a man who runs a motel in Gangneung. "I'm worried that we might lose customers if Hanyu withdraws from the Olympics."
Yun-Cheol Jeong trigger@donga.com