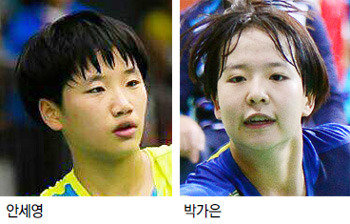 The future world-famous star athletes with shuttlecocks will bring fever to the courts in Korea in early winter.
The 2017 Miryang Woncheon YONEX Korea Open, Korea's only international junior championship approved by the Badminton World Federation, has opened on Monday at Miryang City Badminton Court in South Gyeongsang Province, and will continue until Sunday.
The championship will take place in singles and doubles per boys and girls, plus mixed doubles, according to the age groups (19 and under, 17 and under, 15 and under and 13 and under). In this year's championship, about 1,000 players from 14 countries, which is the most number of countries participating in the history of the championship, are competing in fierce matches.
Among the Korean players, the fearsome teenager An Se-yeong (9th grader at Gwangju Physical Education Middle School), a two-time winner of 2016 championship, is a subject of attention. Leading Korea's victory in Asia Junior Championship in July, she has been winning the singles for four years in a row at this championship by growing in age group. In this year's competition, she is aiming for her 5th victory in the age 17 and under group.
Along with An, Park Ga-eun, a national junior player (11th grader at Beomseo High School) is also aiming for multiple victories by competing in girls' single, double and mixed double. "Park Ga-eun can pull out various kinds of strokes," said Kim Hak-gyun, the manager of the national junior team. "She knows how to lead the game like an expert, despite her age."
For boys' games, Jin Yong (Dangjin Middle School) is counted as a potential winner in singles for the age 15 and under group.
YONEX Korea, the title sponsor, has been hosting Woncheon Elementary Championship, named after the pen name of the late Kim Deok-in, the founder of the company, for 21 years. In addition, it is hosting an international junior championship, taking the lead in nurturing talented young players.
Jong-Seok Kim kjs0123@donga.com