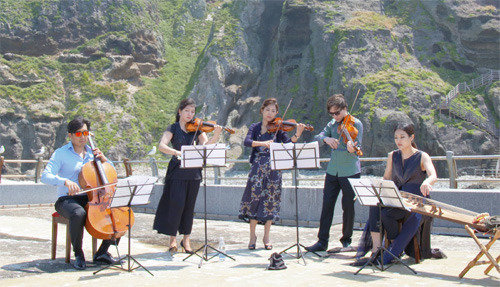 During the recent visit of U.S. President Donald Trump, the Dokdo shrimp that was served at the banquet in Cheong Wa Dae became a hot issue. Japan in particular, reacted sensitively to the name of the place "Dokdo" that was presented at the banquet for the state guest between the leaders of Korea and the United States.
There is an organization promoting Dokdo in Korea and overseas through art, such as music, the fine arts, poetry and dance. "La Mer et L'Île" ("The sea and the island" in French) is working on culture and art activities with the subject of Dokdo and the East Sea, with about 100 artists and scholars participating in it.
"La Mer et L'Île" is a pure artistic and scholarly organization established as a non-profit corporation in 2012, with the purpose of promoting the East Sea and Dokdo through art. It has conducted 10 concerts for the past five years in places including Seoul Arts Center. Since 2016, it also performed in foreign countries such as Singapore, Australia, Hong Kong, the Czech Republic, Germany and the Netherlands.
In addition, it hosted "Dokdo, Island of Five Senses," a special exhibition on the East Sea and Dokdo with the participation of famous artists, such as Lee Jong-sang, a member of the National Academy of Arts of The Republic of Korea, and Seonwoo Yeong, a North Korean artist who painted Dokdo, for three times at major art galleries of Korea.
On Nov. 22, it will promote Dokdo and the East Sea through its 11th regular concert at Sejong Center for the Performing Arts in Seoul. In this concert, a music titled "Light, Shadow and Dokdo" composed by Woo Mi-hyeon, a composer appointed by "La Mer et L'Île," will be played in a quintet of haegeum, flute, clarinet, violin and cello. "Dokdo Rhapsody" composed by Kim Dae-seong will also premiere in a quartet of daegeum, flute, violin and cello, and "Spanish Dance" by Manuel de Falla and "String Quintet" by Johannes Brahms will be performed as well.
The artists performing include music director and violinist Choi Yeon-woo, violinist Park Jun-yeong, violist Erwan Richard, violist Lee Hee-yeong, cellist Kim Dae-jun, flutist Park Ji-na, clarinetist Hwang Soo-hee, haegeum player Ko Soo-yeong and daegeum player Park Gyeong-min. News anchor Kang Min-seon will narrate the concert, and the concert will also play a video during the performances to show the beauty of Dokdo.
"We will continue to work on projects in which the artists promote the East Sea and Dokdo to Korea and overseas through art, such as music, fine arts, poetry and dance," said Lee Ham-jun, the chief director of "La Mer et L'Île."
Dong-Wook Kim creating@donga.com