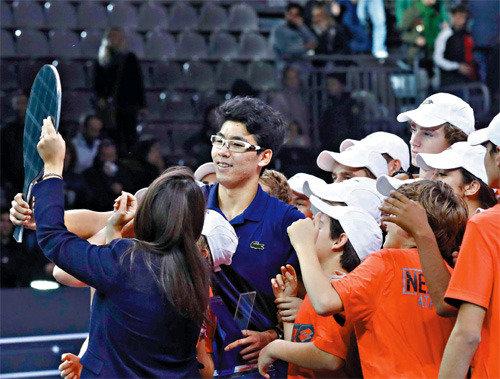 Chung Hyeon has become the very first South Korean player to win a world tour singles among young players of the next generation, being seen as the hope of the Korean tennis.
South Korea's Chung, 21, and 54th in the world rankings, beat 20-year-old Andrey Rublev of Russia, the world No. 37, 3-1 in a come-from-behind victory, claiming his first title at the Next Gen ATP finals, with total prize money of 1.275 million U.S. dollars in Milan on Saturday. It was South Korea's first title in 14 years and 10 months since Lee Hyung-taik won the singles tournament at the Adidas International in January 2003.
The tournament, which was held for the first time this year, featured only promising young players, the top seven 21-and-under players in the rankings, Chung, Rublev, Karen Khachanov (the world No. 45, Russia), Borana Coric (the world No. 48, Croatia), Denis Shapovalov (the world No. 51, Canada), Jared Donaldson (the world No. 55, USA) and Daniil Medvedev (the world No. 65, Russia). The eight players were reserved for world No. 305 Gianluigi Quinzi as the host Italian wild card. The players were divided into two groups to play in a group league. Chung was the only Asian player to qualify.
From the quarter-finals, the tournament began. The inaugural Next Gen ATP has trialed a number of new rules and innovations, which include a shorter format with the first to four games in each set winning – a tie break at 3-all. It also included no sudden death point at deuce and a shot clock to ensure a 25-second rule between points.
Chung won all three matches in group play, securing the top in the group to advance the quarter-finals. He defeated Daniil Medvedev in the semi-finals. Chung lost the first set, but won three straight sets to seal a dramatic come-from-behind victory. He received 390,000 dollars for winning the tournament.
The Next Gen Finals is recognized as an ATP official tour. Although world ranking points are not given, it insisted on qualifying only the promising young of the next generation from the selection of the players. Chung became the first championship of the tournament, making a strong impression as the next generation's tennis emperor. Before the Next Gen ATP Finals, his best performance was the semi-finals at the BMW Open in May this year.
ATP Tour website said Chung Hyeon rose to the top of the next generation ATP class. Reuters called him Iceman, saying he sealed a victory without losing his cool.
"I really don't know what to say. I didn't expect to win this match. I don't how I won here in Milan. I would like to thank ATP officials, Italian fans and amazing audience. My special thanks go to my team, family, fans and everyone," Chung said at the award ceremony. He offered words of comfort to Rublev looking sad throughout the ceremony, "I was honored to play against you in the final match. We will meet again in the future."
Sang-Hoon Kim corekim@donga.com