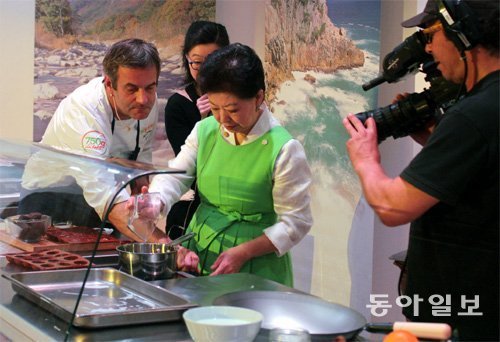 "This is called Gujeolpan made with wild greens from Jeongseon, Gangwon Province. The dish was a royal cuisine served to the royal family."
On the second floor of Les Salons Hoche, a cultural space in District 8 in Paris, Kim Soo-jin, director of the Korean Food Culture Research Institute and master of traditional foods of Gangwon Province, gave a demonstration of how to make Gujeolpan, wearing a headset and a green apron.
Upon hearing the word "royal cuisine," more than 200 participants from the cultural, art and culinary worlds fixed their eyes on the Gujeolpan. After taking pictures of the colorful vegetables and meats on the plate, they started to put various ingredients on a small "jeon" made with buckwheat flour, which is called memil jeonbyeong.
French people, who were not familiar with using chopsticks, used their hands instead to put the small jeon filled with various ingredients into their mouth. Although it took them some efforts to pick up the food, their faces lit up with joy as they dipped it in pine nut sauce and took a bite.
"Taste Korea" is an event held annually by the Korean Culture Center in France and the Korea Tourism Organization. In commemoration of the 2018 PyeongChang Winter Olympic Games, the event has introduced traditional foods of Gangwon Province.
This year's event has featured famous French chef and blogger Damien Duquesne, who presented French cuisine using Korean ingredients in collaboration with Kim.
After visiting Korea in May, he was mesmerized by Korean ingredients. At the event, he demonstrated a dish that boiled down a cod in Korean soy sauce mixed with vegetables.
"Korean ingredients such as soy sauce, abalone, green algae and kelp not only taste good but also are good for your health," said Duquesne. "Korean temple cuisine has a huge potential as you can feel the nature of Korea with it."
ditto@donga.com