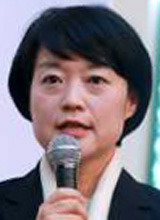 Naver CEO Han Seong-sook has directly criticized Google for not taking enough social responsibilities, continuing the fierce battle between Google and South Korea's main search engine.
"As Google must compete fair and square in the Korean market, I will ask Google openly," Han wrote on the official blog of Naver on Thursday. "Google must reveal its accurate sales in Korea, network fee, investment and employment status." She attached every single one of the materials that might serve as the basis for each issue in the form of image files, strongly criticizing Google.
"Google Korea only repeats the answer that it is paying taxes, without revealing the sales by country, which serve as the grounds for the taxes," she claimed. "Google discloses its scale of sales in other countries, such as the United Kingdom, but it never reveals its sales in Korea during the parliamentary inspection in Korea, which evokes suspicions."
Han also revealed Naver's investment status and scale of employments, pressuring Google. Naver has hired 8,105 employees as of October 2017, and she wishes to question if Google Korea is hiring enough employees to fit its scale of sales in Korea, according to Han. The industry sees that Google Korea hires about 200 people.
"Google received 1.2 million dollars (about 1.3 billion won) of support from the Korean government in 2006 to hire personnel as the human resources for Research and Development (R&D) in Korea," she said. "Nevertheless, Google has not been revealed if they actually hired."
About the part that Google revealed to be contributing to Korea's economy by supporting startups in Korea, Han said that Naver invested 231.8 billion won in 63 startups and startup-promoting funds only in 2017. "Google must go beyond the superficial mention that it is 'supporting' when it comes to social contributions, and reveal how much it contributes in investments and donations," Han said.
The battle between Naver and Google was triggered when Naver founder Lee Hae-jin attended the parliamentary inspection on Oct. 30 and mentioned the reverse discrimination on Korean companies about Google. As Google Korea argued on Nov. 2, "We are paying taxes properly and hiring hundreds of people in Korea," Han rebutted the argument of Google.
Hyun-Seok Lim lhs@donga.com