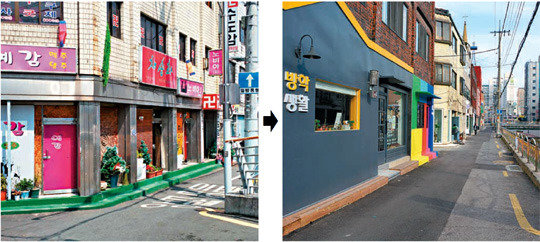 Around the Banghak Stream Area in Dobong District, Seoul are signboards that bear words that appear familiar yet mysterious, such as "Yegam (hunch)," "Soopsok (In the forest) and "Yeoulmok (rapids)." These stores, whose windows are covered to prevent pedestrians from looking inside, are run-down taverns. The pubs are being replaced by local community facilities, arts and crafts and design workrooms.
Only one pub remains in operation, in contrast to the previous 31, thanks to the district's campaigns to discourage and crackdown adult entertainment since April this year, according to Dobong District Office on Thursday. The last pub will close down next Wednesday and reopen business as a café.
The street will be transformed into a cultural avenue that promotes Hangul, the Korean alphabet. The motive has been taken from cultural heritages found west of the stream, including the grave of Princess Jeongeui of the Joseon Dynasty, the second daughter of King Sejong, who created Hangul, the home of Jeon Hyeong-pil, a scholar who discovered and kept the genuine copy of Hunminjeongeum and Kim Su-yeong Museum.
Tae-Ho Hwang taeho@donga.com