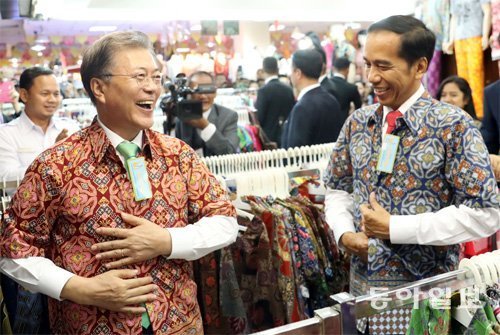 South Korean President Moon Jae-in vowed on Thursday to pursue "New South Policy" to significantly foster Seoul's cooperative ties with the Association of Southeast Asian Nations, which includes Indonesia and nine other Southeast Asian countries. The policy is aimed at actively expanding diplomatic and security cooperation with the Southeast Asian region and promoting economic exchanges and trade.
He made the announcement at a South Korea-Indonesia business forum in Jakarta during his state visit to the Southeast Asian country. "Bringing South Korea's relationship with ASEAN to the level of its relationship with the four major powers (the United States, Japan, China and Russia) around the Korean Peninsula is my goal," he said. He also proposed a "3Ps" strategy, referring to "people community, peace and prosperity."
His intention is to broaden Seoul's diplomatic horizon by expanding exchanges with the ASEAN nations while diversifying South Korea's trade that has been concentrated on the United States and China. The Moon administration plans to diversity Seoul's diplomacy and establish new economic channels with the "New South Policy," which follows Moon's "New North Policy" announced during his visit to Russia in September.
Moon announced the "New South Policy" in Indonesia in consideration of the fact that Jakarta is a central country in the ASEAN. He also proposed what he called a six-point action plan, which includes restoring the frame of economic cooperation between the two countries, diversifying the areas of economic cooperation, promoting cooperation in key industries as well as expanding bilateral ties to cultural and personnel exchanges. Through the action plan, Seoul seeks to drastically increase trade with ASEAN member nations.
"Seoul will seek to increase trade with the ASEAN to 200 billion U.S. dollars by 2022, a similar level to Seoul's current trade volume with Beijing that amounts to 210 billion dollars," said Kim Hyun-chul, an economic aide to President Moon.
weappon@donga.com