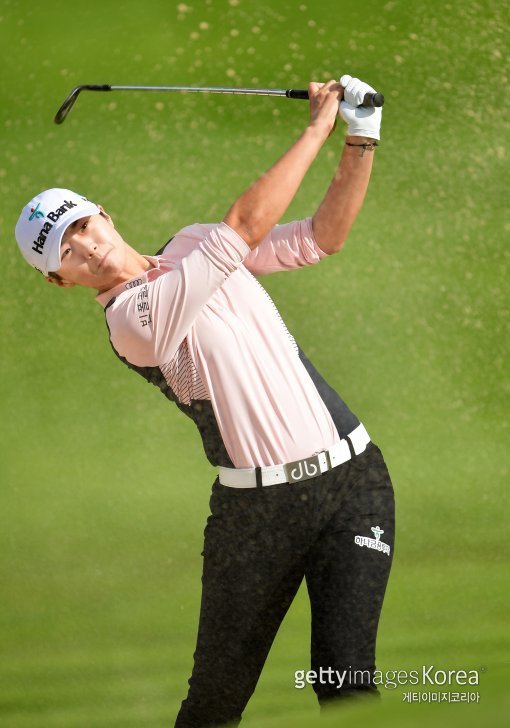 Korean golf rookie Park Sung-hyun has risen to No. 1 in the Rolex Women's World Golf Rankings announced by the Ladies Professional Golf Association (LPGA) on Monday, rising from her No. 2 position last week. Park is the first LPGA Tour rookie to reach the top position since the Rolex World Rankings began in 2006, and is the fourth Korean to rise to the rank, following Shin Ji-ae (2010), Park In-bee (2013) and Ryu So-yeon (2017).
The 24-year-old gained 8.4056 World Ranking Points and moved past Ryu So-yeon (8.3818), who held the No. 1 position for the past 19 weeks, by 0.02 points.
Park is currently in China for the upcoming Blue Bay LPGA Tour to kick off on Wednesday. "It is a great honor to me and my family," she said. "When other Korean athletes who joined the LPGA Tour before me became No. 1, I thought, 'When will I get there,' 'What does that feel like,' I wanted to be like them and was curious. It still hasn't hit me yet."
"I've reached my goal I set after joining the LPGA faster than expected," she added. "I was able to achieve this by working hard and not getting arrogant. I will keep this mindset."
The LPGA Tour gives the caddie of the player ranked No. 1 a special caddie bib with the number "1" on the back. Park and her caddie, David Jones, are planning to have an event to celebrate taking top ranking on Wednesday in China.
With her world ranking of only 396th place in early 2014, Park finished the 2016 season as world No. 10 by dominating the Korea Ladies Professional Golf Association (KLPGA) Tour by claiming seven victories and finishing in the upper ranks in seven LPGA Tour competitions. Since becoming a full-time LPGA member this year, she claimed two victories including the U.S. Women's Open and seized the Rookie Award early in the season.
LPGA introduced Park as "one of Korea's most popular players, and is known by the nickname 'Shut Up and Attack' for her relentless focus and determination on the golf course."
Park is leading the LPGA in Official Money and ranked second in Average Strokes and Scoring Average. Park has the opportunity to win both Player and Rookie of the Year in the same season for the first time in 38 years since Nancy Lopez in 1979.
"There is a lot riding on the remaining two competitions," Park said. "I will think of it as a good opportunity and play the game by concentrating on each hole."
Park had to endure hand-ripping training to overcome her slump. After leading the second half of the 2013 KLPGA Tour in payouts, she became a rising star in the domestic field in 2015 and is dominating the world stage.
Jong-Seok Kim kjs0123@donga.com