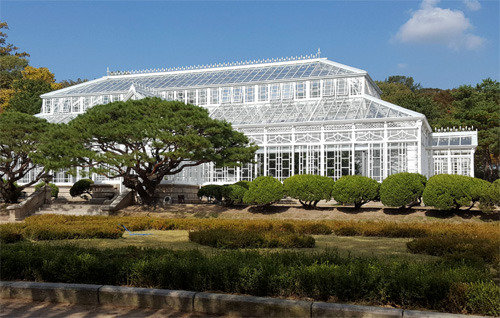 A greenhouse built in Changgyeonggung Palace built by the Japanese Empire during the late years of the Korean Empire has been partially restored into its original form, and it will be open to the public on Friday.
The Changgyeonggung Palace Management Office, an office affiliated to the Cultural Heritage Administration, announced that the repair work for "Grand Greenhouse of Changgyeonggung Palace (Registered Cultural Heritage 83), which started in August 2016, has been finished recently. Back in 2013, the wooden material on the window frames of the Greenhouse was found to have been corroded during inspection.
"Grand Greenhouse of Changgyeonggung Palace" is Korea's first Western-style greenhouse built in 1909, and it is built by covering steel frame wooden material structure with glass. The Japanese Empire built it with the zoo after locking up Emperor Seonjong, the last emperor of the Korean Empire, in Changdeokgung Palace, as a pretext for comforting him. Hayato Fukuba, the person who was in charge of the botanic garden of the Imperial house of Japan, designed the Greenhouse, and a French company constructed it. It was recognized for its symbolism as a Western-style building during the late years of the Korean Empire, and was designated as a Registered Cultural Heritage in February 2004.
The Cultural Heritage Administration has replaced the window frames and floor tiles of the Greenhouse and repainted the steel pillars and the railings. Especially during the renovation work, the culture agency has found a piece of a tile made in England, which was used during the construction in 1909, and has ascertained the original form. It also found the pamphlet of the product published in 1905 by the manufacturer of the tile (Minton Hollins Tiles) on the Internet. The Cultural Heritage Administration referred to the color and pattern of the tile in the pamphlet, and the size of the found piece to place tiles on the floor.
Sang-Un Kim sukim@donga.com