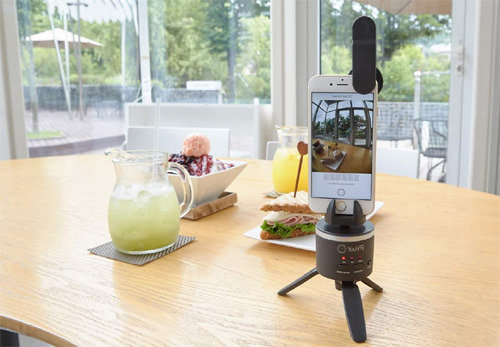 A technology has been developed to create 360-degree VR content with a smartphone. The app "YouVR Maker" has been developed by a South Korean startup named Next Aeon.
The Electronics Telecommunications Research Institute (ETRI) announced on Monday that an application has been developed to produce high-definition 360-round VR content without a VR camera.
The technology harnesses the smartphone's filming function to take 360-degree photos simply by spinning in the same spot and following 16 points in the screen. The newly introduced technology from the research institute allows for identifying the characteristics from a photo or a video to create 360-degree content that is as natural as possible. By attaching their smartphone to a VR device, users can get a highly immersive VR experience.
The company has also introduced a technology that can create VR video content by putting videos on photos. Production of 360-degree VR content used to require several sets of cameras, software programs, or a special camera for VR content production.
The researchers have also disclosed the YouVR 360, a social media platform where people can upload and share their photos online. Once the content is accumulated enough, the VR platform is expected to be used for various purposes such as travel, shopping and virtual house tours.
"The new app will enable anyone with a smartphone to create their own world of virtual reality," said Next Aeon CEO Kim Gyu-hyeon. "We are launching VR real estate services in conjunction with Hanbang, the mobile realtor app operated by the Korean Association of Realtors."
yskwon@donga.com